The definition lies in the name itself as the disposable number is one which a user can easily dispose of. It is a short-term number that is used on a provisional basis.
There have been times when every one of us has felt the need for a temporary number so that we can just use it in a particular situation and then throw it away without revealing our identity.
In most cases, the virtual numbers are for one-time use only and get blocked automatically after completing the call. In a few cases, there is a specific period attached to the number that stops its usage once the time crosses over.
Why not get hold of a disposable number and keep it for an emergency. Believe me; it will prove a blessing in disguise as one of the main advantages of using such a number is that it does not disclose your details.
Yes, that's true no information about the number from which you are calling, and no tracking option to know about your whereabouts seems like heaven felt opportunity in dire circumstances.
How to get hold of this number is an important question that needs to be addressed if we are going to use it at one time or another as per our convenience.
The best option of buying a disposable number is through a service provider. You will be relieved to know that such numbers are available at affordable rates; hence, it will not cause a serious dent in your pockets. The provider simply forwards the call to your existing number via online or smartphone services. Your permanent number will not be disclosed to the person you are calling. After the completion of the call, your number is blocked and hence of no use.
There are numerous websites that offer disposable numbers to interested parties. The temporary number allows the user to make voice calls and send text messages easily. Your permanent number is kept aside and is safe and secure from any kind of intrusion. Some of the sites are free, whereas others have levied some kind of a fee. Such numbers easily bypass OTP verification and mobile number on any app or site. You can also create several social accounts, for instance, WhatsApp account with this virtual number.
Some of the popular online sites offering you disposable phone number are as follows-
freephonenum
com
com
receive-a-sms.com
org
sms-receive.net
com
com
com
receive-sms-now.com
receive-sms-online.com
com
com
us(Pinger)
There are numerous apps that can help you to generate a virtual number.
The acquired disposable number can be used for voice calls, voicemail, SMS, and call-forwarding. Some popular ones are as follows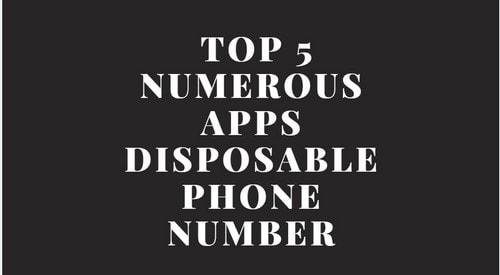 #1. Dingtone
If you are looking for a free app that can help you to get a disposable number, then you will find no better app than Dingtone.
It is meant for Android and iOS users, and you can send texts, videos, and make calls easily in more than two hundred countries of the world. If you so desire you can get a supported caller ID which will then inform your near and dear ones about your call.
#2. LineUp
It is meant for only iOS users and is compatible with iPod and iPhone. It offers burner or disposable numbers for voicemail, calls, and texts. The user can use his phone or data connection for US only.
#3. Burner
It is meant for Android and iOS users and can be downloaded for free. It has an easy-to-use interface that allows disposable voice call and SMS to its user.
#4. CoverMe
It is a free app that a user can download on both the App Store and Google Play. The app is meant for Android and iOS users and has been specially designed to meet the needs of consumers who are looking for an absolute secured line.
Privacy is the main concern of people who are opting for a disposable number, and CoverMe has proved itself worthy by camouflaging your real number. There is a very cool mode for individuals who are hyper about confidentiality and safety measures.
You can integrate a self-destruct mode that will automatically delete the message once it has been read. The encrypted data used by the app helps the caller to transmit videos and photos, text, and call without revealing his number even in the relevant call record bills.
#5. Hushed
This app is meant for Android and iOS connections and is compatible with tablets and phones for MMS, SMS, text message, and voice call. The user can change to the second number easily and also drop his disposable number at any given time if you do not need it further.