It is a fact of life that phone is a necessity without which you cannot survive even one day.  Our professional and personal life is interlinked with a mobile device because it helps us to handle all our daily transactions effortlessly.
The world is changing at a very fast pace, and a mobile number has, in fact, become our identity. It is easy to track your whereabouts and gain information about the person through a mobile number if you have the know-how to do so.
Every cloud has a silver lining as well as a darker aspect. Mobile devices are no doubt essential for us, but in some cases, the permanent telephone number has caused grave concerns.
It is at such times you feel the need for a disposable number that will prove handy in certain specific circumstances. Disposable numbers, as we all know, is a number that you can use once and then it automatically gets blocked.
You will also find some disposable numbers that are applicable for a certain time period and when the time lapses, so do the usability of the number.
An important aspect of the disposable number is that it is available easily and that too at an affordable rate. The user will not have to spend unimaginable amounts to buy a number that he is going o use on a temporary basis.
There are several apps and websites that also offer disposable numbers for free at a certain condition. If you can meet them the number is yours to do as you please.
A disposable number is a useful tool in these turbulent times when you have to protect your privacy at all costs. You cannot provide your permanent number to every Tom, Dick, and Harry; otherwise, there might come a day when you will have to face the repercussion of your innocent gesture.
This is why individuals are on the look-out to acquire at least one or two disposable numbers that will come in handy at important times.
Acquiring a disposable number is an easy task, but how are you going to use it if you do not have the actual knowledge to do so.
When the user buys a disposable number from a service provider, he will have to spend a certain amount for it. Once you acquire it, the provider will forward call/calls to the existing device of the user.
It is done so with the help of a call-forward option or via a smartphone application. The disposable number is generally used only once, and after you make the call, it will stop working automatically.
The customer has the option of buying a disposable number that is valid for a specific date, and once it expires the validity of the temporary number also ceases to exist. It is of no use after its expiry date. In both the options, the user has to adopt the earlier-mentioned method to use the number.
There are several websites that offer disposable numbers to interested users both for free and for a certain sum. It is easy to get a disposable number from any of the sites and use it once you come to know about the method you should follow.
Let me explain to you in a detailed manner so that the next time you have to use a temporary number, you will not be inconvenienced.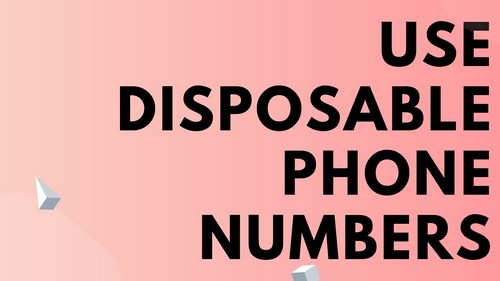 Open the online site from which you are going to get a disposable number. It is up to you to choose either a free site or one that sells its products for a specific amount.
Register on the online website only if you are asked to. If not, then do not bother with this step.
Simply proceed to the next step and apply for a new disposable number that you can dispose of once you have used it.
Once you click on the option of a disposable number, it will show you the different countries where the number will be valid. Select the number as per your own requirement. Suppose you want to use the number in India then you will have to click on India and if some other place then on it. There are numerous options, and your selected country will most probably be on the list.
Once you have decided on the place and clicked on the appropriate number, you have to copy the selected number and now us it on either the app or site where you want to sidestep OTP verification.
Once you get an SMS or OTP on that specific number, just click on the button which states Read SMS on the site where you are opting for disposable number.
You will get a message received a notification on that number.
You have your disposable number, and now you can use it as per your need.