WordPress offers you two options of working on your content. You can either create your content in pages or through posts. Of course, either of them come with their advantages, but still, if you are a beginner in the realm of WordPress in particular and blogging in general, you may get confused between these two elements. So, are you confused between posts and pages? This post will help you choose between the two options.
The Major Differences between Wordpress Posts and Pages
Well, Posts and pages are the two options that WordPress offers you for creating content on your blog. Both of these options have their benefits and in fact, add more value to your website. If you are indeed looking to make your website more user-friendly, you would need to use them judiciously and in a proper manner.
So, if you really want to use them judiciously, you need to understand what exactly is their functionality and benefits.
The Differences in an overview
The WordPress posts will come with a specific date and time and often displayed on your site's blog section in reverse chronological order. Ideally, in case you are writing a normal blog post, you need to create post rather than a page.
A WordPress post would ideally be a form of dynamic content on your website. In sharp contrast, a WordPress page does not come with a date and time and normally be timeless, static content. The pages do not normally change and stay completely static. A few examples of the Pages are the About us and Contact us sections on your site.
Whenever your visitors come to your site, they will always be able to see the pages. The Posts, on the other hand, may not be visible all the time. Of course, your visitors may be able to search a particular blog post on your site, but the first thing they would visit your site each time would be entirely different.
A good example can be the content that you are currently reading comes under the Posts category. If you want to check the Pages on this site, you need to visit ours About Us page.
The Posts – An Explanation
In case, your WordPress site is designed as a blog; you will find a majority of posts. Like we already indicated above, the posts normally appear in the reverse chronological order. WordPress lets you archive the older posts through Month and year.
As your blog gets older, your visitors would need to reach deeper into your site to fetch a particular content. Of course, WordPress lets you arrange your posts based on categories and tags for an easier fetching functionality. The posts are completely dynamic in nature, and they can well be integrated with your social channels. You can even use RSS feeds and email newsletters to let your visitors know the latest updates to your blog. You can use social media plugins to let your visitors share your content across different social media sites.
Blog posts also help you have a proper degree of interactive communication with your visitors. The built-in commenting feature is helpful for your users to comment on any of the posts published on your site.
The Pages – An Overview
WordPress pages are designed to be the static pages on your site in sharp contrast to the Posts that we discussed above. Some of the examples are the About us, Privacy Policy, Contact Us or  Our team pages on your website or blog. Please note that these are only examples and your site may contain any number of static pages.
In case your blog or site is about a particular product or software, you may dedicate a page for the product and make it static. Every user to your site will see this page and then explore the other blog posts corresponding to the product or service. The pages do not have a commenting feature nor are they tied to social sharing.
That would not, however, mean that you cannot make any changes to these pages or the content therein. But, these changes are not time bound and they would be only occasional. For instance, you will not find a Contact us page for each year or each month.
One of the most important difference is the hierarchical nature of your pages. You can have WordPress page within another page. It is not be something you would find with the Posts.
Wordpress Posts vs Wordpress Pages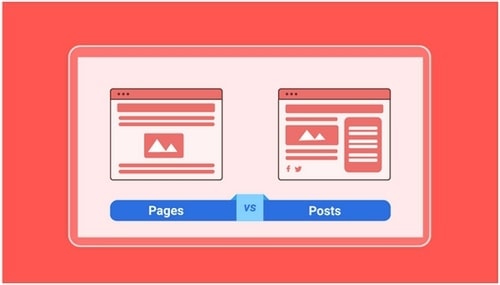 We have already studied the key differences between a post and a page. Now, we will make an attempt at exploring it a little ahead into the intricacies and try to understand the technical differences between the two types of content platforms offered by WordPress.
1) Posts Come with an Author Information, but Pages Don't
Of course, both your posts and pages come with author information. However, please note that from the WordPress background, you can find the author information for each of your posts and pages.
However, when your visitors come to your site, they do not find the author information related to your static pages. However, they invariably find the author information on the posts. In essence, a WordPress Post has a public author while a WordPress page does not have author information.
2) You can categorize Posts, while pages cannot
WordPress posts come with an option to organize them in terms of Categories and Tags. This will be helpful for your visitors to find the content that they are interested in.
Moreover, your blog posts will be arranged in a properly organized structure. Each of the category or tags you create would archive the specific posts based on their content. You can configure the category in the text editor section of your WordPress dashboard.
The pages, on the other hand, cannot be organized in terms of categories and tags. In fact, they can be arranged in a hierarchical order. You can create a Parent page and nestle into it other child pages. This helps you organize the related pages together.
3) Posts Come with Multiple Formats, while Pages can only have a few templates
WordPress posts can have multiple formats. Some of the supported formats include Image, Video, Quote and Gallery among a host of other alternatives. You can easily format your posts depending upon the type of content you are trying to create.
Pages do not come with these specific formats. Of course, a few themes allow using a few templates for your WordPress pages. However, you would not find them as widely as the formats available for posts.
4) Posts are visible in RSS feeds, while Pages Don't
WordPress supports RSS feeds and you can display your pots through the RSS feeds to your potential visitors. You can also include them in your weekly or daily email newsletters through the services like MailChimp.
RSS feeds can only support the WordPress posts, while they are not available for your pages. In fact, RSS feeds are designed to present the latest content from your blogs to your potential customers or the recurring visitors. Now that the Posts are the dynamic content and the pages are not, it is only natural that the pages will not be available through RSS feeds.
Anything else We Need to Know?
Is there any limit you need to impose on the number of posts or pages you will need to add to your WordPress site? Well, no. You can create as many numbers of pages and posts on your WordPress site as you would want to. There were issues with the larger number of pages in the older versions of WordPress, while the recent versions have fixed this issue.
However, given the fact that your WordPress blog is focussed on creating blog posts, we do expect you to create more than three to four static pages. However, the pages do have importance attached to them from the SEO point of view.
Search Engines prefer your content to be organized in a manner useful for the end user. Now that the WordPress pages come with the best timeless content, they would help you in getting a better search engine visibility and better rankings. However, it is equally important to have updated content for good SEO performance. From that perspective, a right combination of posts and pages would be quite helpful enough.
In Conclusion
Well, we guess we have shared enough information with respect to the functionality and usefulness of the Posts and Pages with respect to WordPress. While both of them do come with their own usability parameters, they have a few inherent differences.
In any case, as a beginner, your primary focus should be on making your WordPress blog more organized. So, arrange your posts in well-organized categories and tags and make use of a few good and essential Pages on your site. Ultimately, it is the end user you should focus on, and a well-organized site is a right way to achieve it.