Macroeconomics deals with the economy as a whole. It is the study of structure, behavior, national output, etc. of the entire economy, as the name goes. On the other hand, microeconomics deals with individual entities of the economy, like an individual, company or a small group of society and its interactions with the economy. As the name suggests, it deals with the economy on a micro-level.
Macroeconomics deals with issues which affect the whole group of a similar entity like a nation, or group of industries or group of specific households, etc. It deals with aggregate variables that affect a larger entity. Terms like Gross Domestic Product GDP, total consumption, unemployment, poverty, imports and exports, globalisation, austerity etc. are associated with Macroeconomics.
Some questions that are investigated by Macroeconomists are What is the total countries GDP? How has the employment rate changed in the last decade? What are the factors affecting the employment rate? What is the ratio of the country's imports to exports? What can be done to incorporate globalization? What is the standard of living of people in the country, and how has it changed in the last decade?
Microeconomics is the branch that analyses the performance and behavior of individuals and small economic agents which form a small part of a greater economy like a household or a family or a specific firm or industry. It is the one that deals with providing maximum output by utilizing minimum resources.
Microeconomics deals with the demand and price of a product and try to establish their relationship at an individual level. It analyses and attempts to answer questions such as How do people spend their income and how do they plan for savings?
What is the percentage of the amount they keep as future savings? What should be the optimum target price of a product to attract maximum customers? Unlike Macroeconomics which deals with aggregate demand and supply and provides overall data, microeconomics deals with individual demand and supply.
Micro vs Macro Economics – Difference Between Macroeconomics And Microeconomics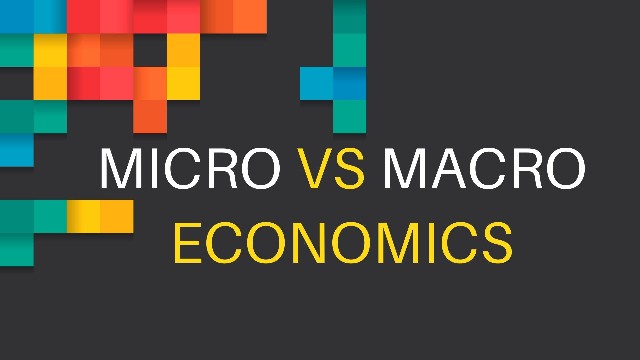 | Macroeconomics | Microeconomics |
| --- | --- |
| Macroeconomics studies the behaviour of the entire economy as a whole, may it be national or international. | Microeconomics is the branch of economics which deals with individual entities of an economy, for example, a household, a firm or group of industries etc. |
| Macroeconomics is applicable to external issues or environment issues. | Microeconomics is applicable to internal or operational issues. |
| It deals only with aggregate behaviour of the economy as a whole. | It is concerned only with individual variables in the economy. |
| It deals with aggregate demand and supply. | This deals only with demand and supply of individual variables. |
| It assumes that all microeconomic variables are constant. | It believes that all macroeconomic variables are consistent for the sake of calculation. |
| It is concerned with the theory of national income, the theory of general pricing, Aggregate consumption, or economic growth. | It is concerned with theory of economic welfare, the theory of product pricing, or theory of factor pricing. |
| Macroeconomics is useful in sustaining the price level in general and helps to solve major economic problems like inflation, poverty, global deflation, or unemployment. | Microeconomics helps determine the price of individual variables like cost of the product, and its affecting variables like cost of land, capital, labour, etc. |
| The scope of macroeconomics is vast as it covers general distribution, the income level of all people, employment-unemployment, GDP etc. | The scope of microeconomics, though narrow compared to macroeconomics, deals in detail with product pricing, economic welfare, individual consumption, etc. |
| It faces a significant limitation that what may be right for a group may not be valid or applicable to an individual, and many variables are present which affect the decision. | Some assumptions made under microeconomics are very unrealistic like an assumption is made, which says that there is full employment in society. |
The scale is a significant point of distinction in macro and microeconomics. While Micro deals with a small scale, macro deals with a larger scale. However, there are many events in the economy that affect both but maybe in a different way and will be analyzed differently. For example, a change in tax policies will affect macro as well as microeconomics. While a macroeconomist will focus on how the change in taxation will result in a better standard of living for the people in the country, a microeconomist will be more interested to know how the tax policies have affected the buying capacity of ordinary households.
In his book "The Wealth of Nations" Adam Smith states that both the streams of economics that are micro as well as macroeconomics focus on scarce resource allocation. Both streams are concerned with the maximization of available resources. While Macroeconomics is about maximization of national growth and national income; microeconomics is about the maximization of profit for individual firms or households.
The central problem of microeconomics is resource allocation and determination of price. It focuses on solving the problem of who and how in the economy. It discusses how a producer or a consumer attains equilibrium. Price plays a very crucial role in the determination of microeconomic problems; that is why microeconomics is also known as Price theory.
Onn the other hand, the macroeconomic problem is the determination of employment and income of an economy as a whole. It is concerned with the equilibrium of employment and income. Here not the price but revenue plays a vital role in the determination of macroeconomic problems; hence, it is also known as Income theory.
Example: A macroeconomist would be interested in understanding how imports or exports would affect the capital account of a nation, on the other hand, a microeconomist would be concerned with how would a company, say Pfizer, would reduce its costs so that the demand in the market is increased.
If you study only about Pfizer and how it is affected by the economy, then it would be microeconomics but if you consider the pharmaceutical industry as a whole, then it would be macroeconomics.