Carrying costs are the different costs a business is supposed to pay for inventory in stock. Some of the instances of such costs incorporate taxes, warehouse storage fees, depreciation, insurance, the cost of replacing perishable items, opportunity costs, the cost of keeping items in storage, and employee costs. Firms can decrease their carrying costs with the help of productive warehouse design and by utilizing digital inventory management systems for monitoring inventory levels.
These costs are also called holding costs or inventory carrying costs. They are the expenses a business pays to hold the inventory in the stock. Even the expense of capital that assists with producing income for the business is also understood as carrying cost. Capital costs are understood as the largest component of carrying costs.
What are Carrying costs?
Definition: Carrying costs are the total sum of the amount that a business spends while holding inventory throughout a time period. You can also understand it as the expense of buying, storing, and keeping items in stock. When it comes to the fees for owning a property, the cost is understood as carrying costs in real estate or holding costs. One of the most well-known carrying costs is a loan.
Inventory carrying cost is understood as one of the top inventory management challenges businesses handle. When products get shelved at a stockroom, distribution center, store, or warehouse, carrying costs emerge that include storage, transportation, labor, insurance, item replacement, taxes, shrinkage, and depreciation.
Understanding Carrying Costs
These costs are likewise here and there understood as carrying costs of inventory. Firms pay different expenses over the long run for holding and storing inventories until they are shipped and sold to the users or customers. Organizations find out these expenses to assess the level of profit they can sensibly expect on their current inventory. It is likewise helpful in deciding if an organization should increment or decrease the goods' production.
Once a business knows its carrying costs, it can stay on top of expenses and keep on creating a consistent revenue stream. Opportunity costs are one more element of carrying costs. These costs address what businesses give up while making one choice over another. Despite the fact that opportunity costs are intangible and unseen, they might have affected the profitability of an organization.
Importance of Carrying Costs
These costs include the expense of leasing the warehouse or distribution center where the stocks are kept, channelizing the warehouse operations, paying employee salaries working at the warehouse, insuring the inventory, any loss of stock because of damage and theft. Conveying costs are usually 15% to 30% of the value of an organization's inventory.
This is one of the key elements that tell the company how long they can keep their stock before they begin losing the sum of money over unusable or unsalable inventory items.
Moreover, carrying costs show the amount they need to sell and purchase for maintaining suitable inventory levels. Using the inventory carrying cost formula and knowing how to limit it would assist an organization with recovering money tied up in inventory and incrementing its profits.
Components of Carrying Costs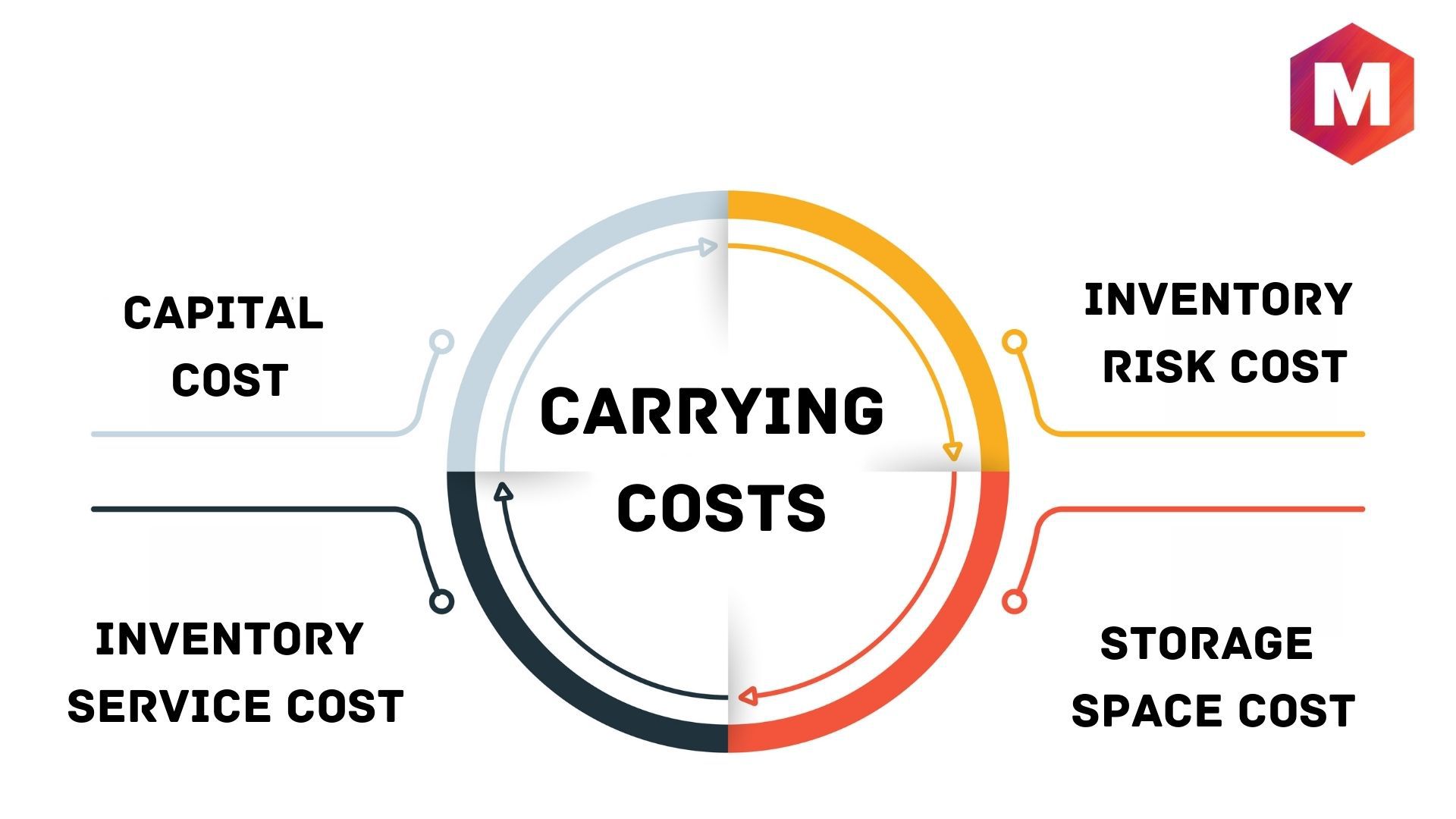 1. Capital cost
It is the most crucial element of carrying costs that businesses incur. Capital cost incorporates the interests added and the cost of the amount of money invested into the inventory. It is generally shown as a percentage of the total inventory costs or the total value of the stock or inventory being held.
2. Inventory service cost
Such costs incorporate IT equipment, tax, applications, insurance, etc. The insurance costs of a company are subject to the type of goods in stock and the degree of inventory. Here, the level of inventory is how much inventory the firm keeps close by to fulfill its orders. This means the high level or degree of inventory makes it simpler for meeting customer demand.
3. Inventory risk cost
When businesses carry inventory, it accompanies risk. The inventory risk costs incorporate the shrinkage of stock or inventory, administrative errors, and theft.
4. Storage space cost
It comprises the lease or rent paid for warehousing your items, heating, air conditioning, transportation, lighting, and other costs related to the physical warehouse. It comprises a fixed component and a variable component. The lease or rent is understood as the fixed cost while the expenses of handling the materials keep on varying continually as per the demand and the number of items stocked.
What is Real Estate Carrying Cost?
These costs are the recurring costs paid by investors during the time they own the property.
These costs can fluctuate essentially because of a range of factors like the location of the property, loan type, and age.
Some of the common real estate holding costs are insurance, mortgage payment, utilities, property taxes, HOA or homeowners association dues, etc.
What is inventory carrying cost?
It refers to the full amount that firms spend to stock and store things before they're sold. This can altogether affect the profitability of the firm.
Slow-moving inventory, excessive safety stock, lacking instruments for effective inventory management, bad forecasting, defective inventory management software, etc can all cause high holding costs. make holding costs take off.
If businesses want to reduce carrying costs, they should keep less stock on hand, have a warehouse management system that fits well with the needs, investigate ways of expanding inventory turn and assess the adequacy of distribution center or warehouse designs.
Types Of Real Estate Carrying Costs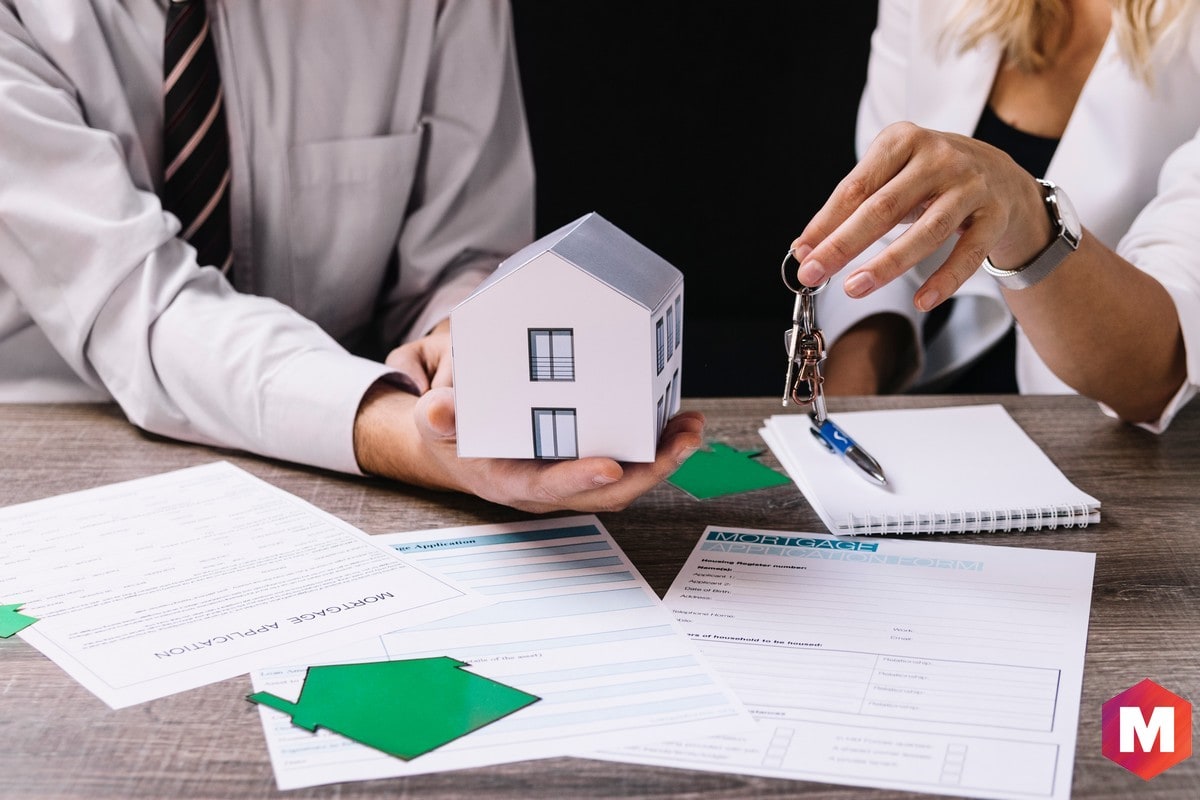 There are different types of carrying costs in real estate. There are various types of carrying costs that you might notice in the world of real estate. Let us have a look at some of those-
1. Property Taxes
They change from one place to another and you should investigate online or visit the office to decide the sum of the amount in property taxes you'll be expected to pay.
2. Mortgage Payments
This one's self-explanatory. If you've taken out a mortgage to finance the investment, you'll need to factor in monthly payments as a holding cost. The type of loan you take out can greatly affect how much you pay.
3. Insurance
Whether you want to resell the property rapidly or you want to lease or rent it out, you'll have to pay insurance. You may find various sorts of insurance relying upon the circumstance.
Here you need to notice that insurance for unoccupied properties is costlier than the occupied properties. That is on the grounds that there's a more serious risk to insurers in the event that no one is living on the property.
In case of the rental properties, you should pursue rental property insurance. Such insurance costs can change incredibly relying upon property and area.
4. HOA Fees
In the event that your property is in an area governed by HOA or homeowners association, you will be supposed to pay HOA charges. Such charges can differ based upon the place you live yet they can be costly and change with minimal advance notice. You additionally should know about any HOA rules concerning renovating, maintenance, etc.
5. Utilities
Except if you're leasing or renting and your tenant is supposed to pay all utilities, you will have to keep the water, power, and gas on. In case, you're interested in a property's utility charges, you may call the utility providers to check whether they'll give you information on the property's present utility bills. But in case the property is empty or unoccupied, you can get a good deal on the utilities by leaving the HVAC off and saving your money.
6. Property Management
It is just associated with the rental properties. Assuming that you're thinking about investing in different rental properties, and you do not live nearby the rental property or you can not manage them yourself, you will be supposed to recruit a property supervisor or manager who is involved in marketing rental units, collecting rent, vetting tenants, handling repairs, etc. You might hope to pay a property manager around 5 – 10% of the monthly rental charges.
7. Regular Maintenance
You also need to do the regular maintenance of your property as well. In case your property has broad landscaping, you might have to hire somebody to manage it. Depending upon the time duration of owning the property, you will be supposed to schedule its maintenance.
Many routine tasks like drain cleaning, window washing, gutter cleaning and more ought to be done for monitoring the condition of your property and staying away from more serious issues.
Formula to Calculate Inventory Carrying Cost
Carrying cost (%) = Inventory holding sum / Total value of inventory x 100
Here, the Inventory holding sum is  Inventory service cost + Inventory risk cost + Capital cost + Storage cost
For calculating your carrying cost, you need to calculate the value of each of four inventory cost components which are inventory service cost, capital cost, inventory risk cost, and storage cost. Then you should add the inventory cost components to find out the inventory holding sum.
In the next step, you should determine the total value of your inventory, and finally, you should divide the inventory holding sum by the total value of inventory and multiply by 100.
The Dangers Of Carrying Costs
When you do not know how much carrying costs you'll pay might have negative impacts on the owners. These expenses can vary with seasons, changes in property, or changes in property estimation.
In the event that you do not pay heed to these carrying costs, your profits may get reduced. Therefore, prior to investing, you should calculate all possible carrying costs to make a spending plan accordingly.
Conclusion!
In the end, it is clear that calculating your carrying cost percentage will be useful in calculating the profit you are going to make on your inventory. These costs are often expressed as a percentage of the total value of inventory.
All in all, its calculation will enable you to find your profit against the inventory you are holding which will ensure that you do not face grave losses because of holding inventory over a long period of time. It is important to notice here that your carrying cost should always be within limits of 20% – 30% of your total inventory value.
Now, on a final note, how important do you consider the calculation of carrying costs for a business? Share your answer with us in the comment section below.