Bridge financing is the temporary or short-term financing used for covering the financial requirements of a company until long-term permanent financing is arranged. As interim financing, it helps in connecting a company to debt capital via short-term borrowings.
It is a short-term loan for companies, mainly newly established enterprises or other entities, to build up their reputation in the market and solidify their short-term position until they get their long-term financing source. Bridge Financing can be used in bridge loans to establish an enterprise using a short-term funding source. Investment banks usually give bridge Financing in the form of loans.
What is Bridge Financing?
Definition: Bridge financing is defined as a financing method that is for the short term until the time the company secures permanent financing. It helps the company in the procurement of short-term loans for catering to immediate business requirements. A bring loan is procured for fulfilling the working capital needs of the business. Such loans have high finance costs or rates of interest, and they are considered expensive, but they are so because of the risks associated with them.
Such financing methods are used for bridging the time frame when a business faces the cash crunch and the business is about to get capital infusion from permanent financing. It is used for loans usually funded by investment banks to aid the newly established enterprise with short period funding sources until their permanent source of funding is arranged. Despite this bridge, financing can be used for initial public offerings or may include funding the entity in equity-for-capital exchange instead of a loan.
Bridge Financing offers very high-interest rates with short-term duration when taken in a loan. In the case of an equity-for-capital exchange, it requires giving up a stake in the company or entity in exchange for financing. In the case of IPO bridge Financing, financing is used by companies going public. Here, the funding covers the cost of IPO, and it is paid when the company goes public.
How does Bridge Loan Work?
As the name suggests, bridge financing is used to bridge the funding of a company or enterprise or any other entity when the company is running out of money at a particular time and has expectations of receiving an infusion of funds later on.
Companies usually use this type of funding to meet their short-term funding requirements. Bridge Financing can be done in ample ways. The option on which company relies depends upon what option is available to them and what suits them the best.
A company with a good reputation and having a solid position will be having more options than those with newly established enterprises or those entities that are already facing significant losses. The option of bridge financing may include IPO bridge financing and debt-equity.
Features of Bridge Finance
Following are some of the features of bridge finance
1. Short term oriented
These loans are oriented for a short period, that is, for a year or less than that. To facilitate financial assistance to meet the short-term financial requirements is the main objective of bridge finance. For example, suppose a graduate wants to start a business or enterprise of his/her own. In that case, he/she will be in requirement of funds to meet his working capital necessities and arrange for the business's initial requirements. He can meet these short-term requirements by applying for a bridge loan.
2. High-interest costs
Due to being short-term oriented and having less repayment period, this carries a higher rate of interest as they provide the quick flow of cash in times of need that result in high-interest costs.
3. Demands collateral security
The lenders of the bridge finance ask for collateral security as due to the high costs of interest, there is a default risk that the borrower may not be able to fulfill his repayment. Collateral security is required in almost all cases. Collateral security directly influences the loan amount the lender is willing to grant.
4. Alternative modes of payment
They facilitate to repay the loan either before or after the actual permanent source of finance is secured. If a company repays the amount before then, they build a good credit profile before the lender.
Types of Bridge Financing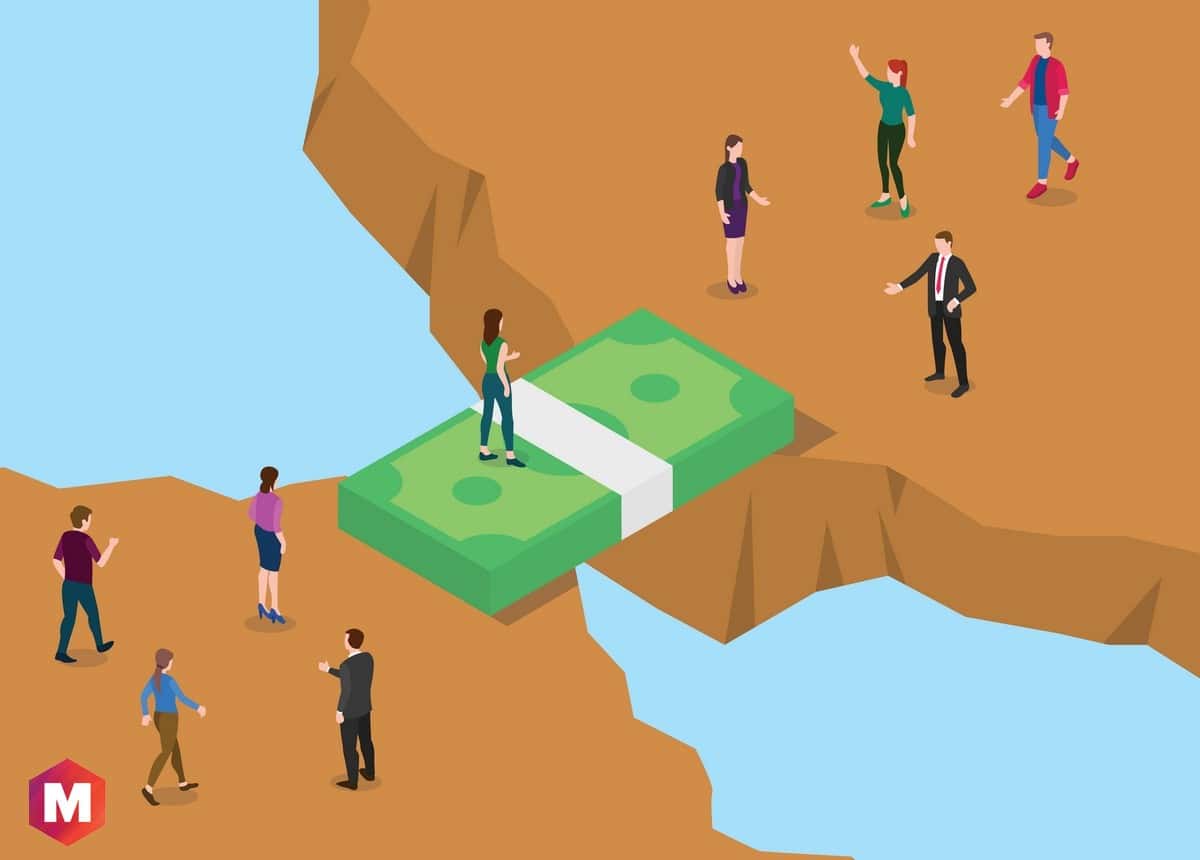 1. Debt Bridge Financing
The first type is Debt Bridge Financing which involves funding through short-term loans or bridge loans. As already mentioned, bridge loans are short-term loans whit high-interest rates. Therefore the company seeking for bridge loan needs to be very careful before applying for it.
The high-interest rates given by these loans may lead to other financial struggles. Therefore a company with high turnover and a good market reputation should only apply for bridge loans. This type of loan is suited for those companies that have already approved loans from the bank supposed of worth $500,00, but this loan is broken into tranches.
Since the first tranche is expected to come in six months, a company can take a bridge loan. This bridge loan of six months for a short duration can help the company survive until it receives the first tranche.
2. Equity Bridge Financing
Equity Bridge Financing is usually preferred by those companies that do not want to go for high-interest bridge loans. In this case, Equity Bridge Financing is a good option that offers the companies bridge Financing in exchange for venture capital of their firm.
The type of bridge financing is used as an option by companies with good venture capital to aid their funding requirements. With such venture capital, the company can choose venture capital firm equity ownership in exchange for the duration of several months to a year's worth of financing.
The venture capital firm will take this as a deal if they believe that the company will gain profit and the value of the stake in the company will increase.
3. IPO Bridge Financing
Bridge Financing through investment banking terms is the method used by most companies for financing their IPO. This type of financing is short-term in nature and is designed in such a way that it covers the expenses associated with IPO.
Once IPO is completed, the banknotes raised from the contribution are used to pay off the loan liability. These funds are generally provided by the investment bank underwriting the new issue. For payment, the company issuing the bridge financing should give several shares to the underwriters at a discount on the issue price, which equalizes the loan.
4. Closed Bridge Financing
This type of bridge financing ensures that the period for which the loan services are provided will be fixed between the lender and the follower after the agreement of both. This type of bridge financing focuses on delivering services on time. Moreover, such bridge financing is bounded by a legal contract between the two parties.
5. Open Bridge Financing
In an open type of bridge financing, servicing the loan is not ensured. As the time of services of such loans is not fixed, this arrangement cannot guarantee timely loan services. This type of bridge financing does not require any legal contract between the two parties.
6. First and Second Charge Bridge Financing
In this type of bridge financing, the lender demands either the first or second charge on the entity kept in exchange for a loan. If the lender requires the first charge, he would have the first right on the profit gained in the client through it. If the lender demands the second charge, then he will have a second right towards the collateral in the enterprise's default.
Examples of Bridge Financing
In case your enterprise is currently under severe bankruptcy, it has been provided with new business opportunities. A requirement of $600,000 is needed for initiating a new business project. In this case, the company can approach bridge financing.
Suppose your business is going into the initial public offering. However, there are few months left to initiate their first public offering, and the business requires some more funds to maintain its operation. In this case, also bridge financing is preferred.
Advantages of Bridge loan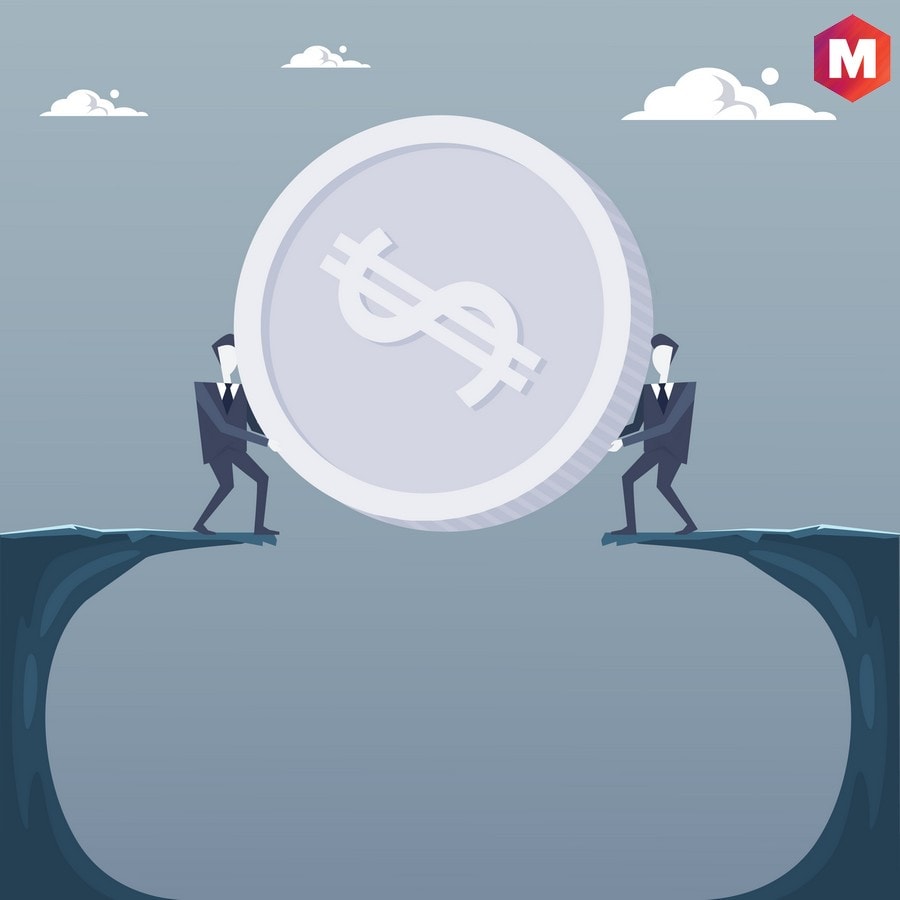 One of the main advantages of getting it is that these loans are processed quickly and instantly. For pursuing auctions and immediate business needs, they help in quick finance. It is helpful to borrowers as it becomes easy for them to manage their payment cycles.
The best part of bridge loans is that the terms and conditions involved in the process depend on the flexibility of the lenders. They also help improve your credit profile if it is a bad credit profile.
Disadvantages of Bridging loan
They are a bit expensive compared to other loans and schemes as they have a high-interest rate. There is also a high default risk from the borrowers' end as the rate of interest of these bridge loans is quite high. It has also been seen that lenders tend to charge high fees if the payment is made late.
If the borrower misses a payment date for each unpaid loan, the balance keeps compounding along with the existing finance rate. The borrower may not be able to exit such loans as he may not get loans from other traditional lenders due to a bad reputation in the market.
Limitations of Bridge Financing
If you want to borrow money through bridge financing, you mustn't have a bad credit profile as this may not get you access to bridge loans.
In case you have a bad credit profile, the lender will ask for collateral in order to ensure its loans from borrowers. On originations and foreclosures, the lender may additionally charge high fees from the borrowers.
These were some of the limitations of bridge finance that one should keep in mind before opting for it.
Conclusion!
Bridge loans typically come in the picture for the short-term, and they generally have a time frame of 3 weeks to 12 months. They are used for bridging short-term business requirements. Instead of traditional loans, bridge loans are used for financing the working capital needs of the business or for acquiring any tangible assets
It is also used for the purpose of IPOs alongside the financing of good deals. It will help borrowing entities in not missing any good and profitable business deals. It may also allow you to make a 20% down payment that is understood as a "piggyback loan" which is a type of bridge loan generally used for avoiding PMI or private mortgage insurance.
Do you still have any doubts about bridge financing or bridge loans? Feel free to ask us in the comment section below.