Bloom's taxonomy is a classification used to distinguish different human cognition levels, including understanding, thinking, and learning. There are three main domains of learning, as identified by Bloom and the committee in 1956. They are cognitive, affective, and psychomotor. Cognitive Skills are learning skills related primarily to knowledge acquisition, effective skills are the growth which happens in emotional areas or feelings, and psychomotor skills are manual skills.
It is crucial to understand that different levels of thinking defined within every taxonomy domain are hierarchical.
Original taxonomy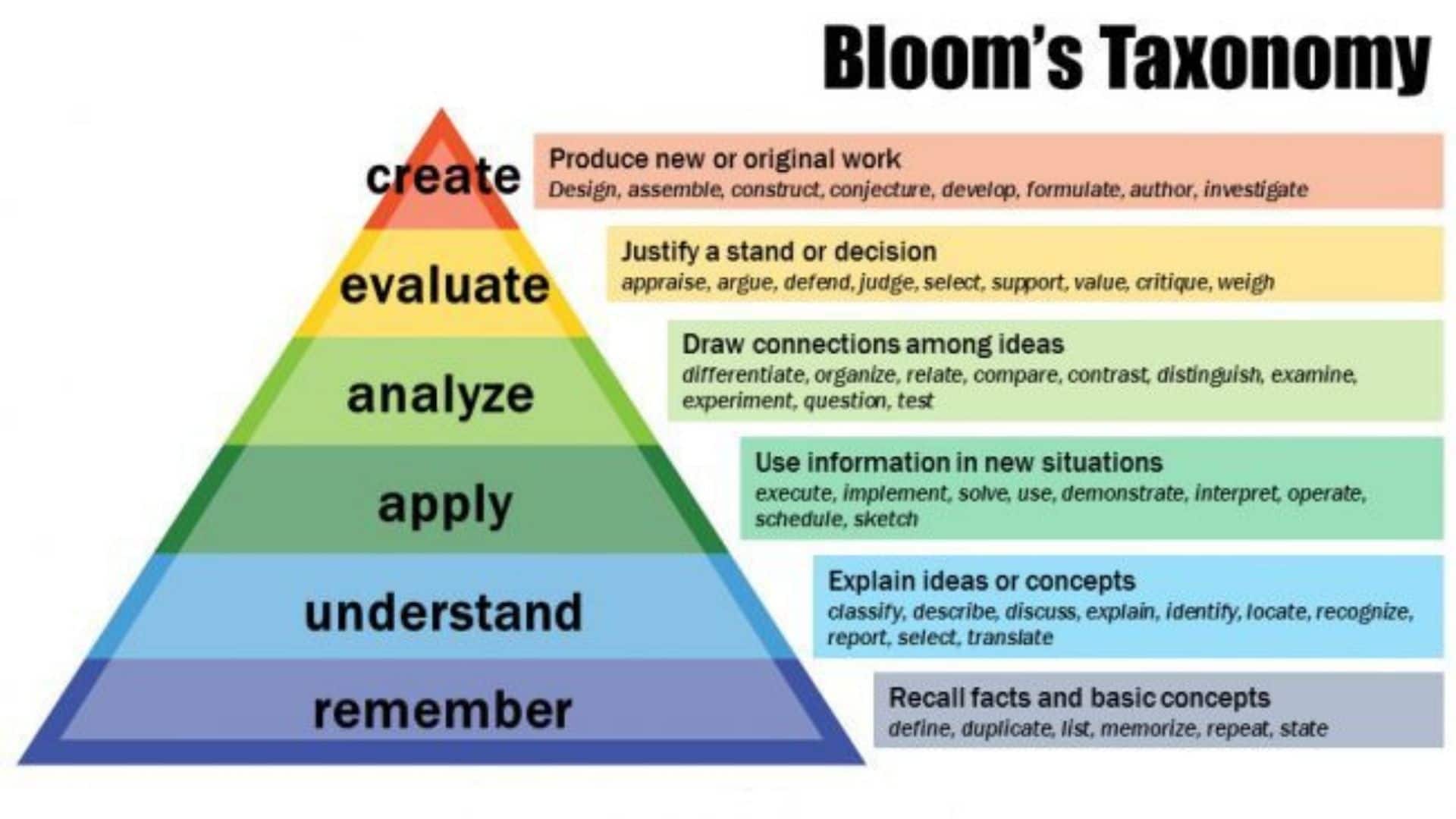 Bloom's taxonomy was first published in the University of Chicago in 1956, and it is named after the chairman of the committee. Bloom's taxonomy's cognitive models consist of six different classification levels: knowledge, comprehension, analysis, application, synthesis, and finally, evaluation.
The group's longitude behind devising was to search and design a logical framework for teachers and learning goals, which would help them understand the fundamental ways in which people acquired new understandings. The objective behind it was to avoid multiple studies of the same topic and redundant efforts.
The three elements described above, knowledge, comprehension, and application, represent the ways of cognition.
This is what is usually represented as a pyramid. When Bloom's taxonomy was published, it received very little attention and required further study and analysis. However, it is one of the most translated theories in the world.
Revised taxonomy
A revised version of Bloom's original taxonomy was released in 2001. It was developed by Lorin Anderson, who was a former student of Bloom. In the revised taxonomy, three categories were renamed, and all the categories were used as verbs.
Remembering was adopted instead of knowledge; comprehension was replaced with understanding, and synthesis was changed to creating. Also, in the classification system, making the highest position and switching places with evaluating.
The revision now had the following categories: remembering, understanding, applying, analyzing, evaluating, and creating. All of these are used in that order.
Putting Bloom's taxonomy in practice
In order to understand the practical application of this taxonomy in work practice, the following are the elements that are broken down:
The cognitive, the affective, and the psychomotor or to be understood thoroughly to understand the practicality of Bloom's taxonomy.
Cognitive domain
This cognitive domain is focused on critical thinking, creating a knowledge base, problem-solving, or any other related intellectual skills. It was created by the original developer of Bloom's researchers.
The cognitive domain consists of single and straightforward memorization, which is explicitly designed to build knowledge, or it can range up to creating something new based on previously learned information.
In the cognitive domain, all of them are expected to create a hierarchy, starting at remembering and ending at creating.
Cognitive Hierarchy
Remembering means retrieving or recalling previous information learned by the person—for example, remembering a policy word by word, prices of a product, safety rules, etc. Most of the things are remembered by the person on his job and are usually relevant to his job. For example, a safety worker would not remember the HR policy of the organization.
Understanding means comprehending translating in information so that you can take and act accordingly. For example, rewriting and paraphrasing the principles of test writing. A complex task is explained in simple words so that everyone can understand it, like translating an equation into a word document.
Applying is the concept of the new situation. Application of the knowledge that has been learned and understood in the classroom into a practical world is an example of applying the concept. This is usually done in every case where people are required to translate theoretical knowledge into practical knowledge.
For example, using a printed manual to calculate off time for an employee. The use of statistics confirms the reliability of the written test.
Analyzing different materials with the intent of understanding its structure is called analyzing. Logic and reasoning are used to understand analysis. Troubleshooting a problem with the help of integrated action is a good example of analyzing. A person is expected to get the required information so that the problem may be solved. In order to gather the necessary information, he is expected to understand the nature of the problem, which is possible only with the help of analyzing.
Evaluating is also known for making judgments about the values or ideas. The person is expected to select the most effective solution from available options by choosing the appropriate one. An example of the same would be selecting a qualified candidate from available candidates.
Creating is building a structure from diverse elements. This structure usually consists of a pattern, and little parts come together to form a new structure. For example, writing a manual for an organization requires considering little things specific and task-related. All these little things are integrated into one common book used to improve the process and outcome. This is the process of creation.
Affective Hierarchy
Receiving
In this assignment, it is expected to listen patiently and thoroughly throughout the presentation. They are also expected to remember important details about the project.
Responding
In this, the learners start to get more comfortable with public speaking and discussing different aspects. They start to discuss their views with others to get a better idea and clarity. Presenting on the subject in front of a class or answering questions by the peers or examples of responding.
Valuing
The learners explore values in this phase. They also learn to understand why other people's values matter and start giving them a chance to understand their values thoroughly.
Organization
In an organization, learners consider how the values are organized and put in place. They try to support different values across the world.
Characterization
The learners are expected to balance their values by learning the values of others. They should be able to work in a team and practice tasks and teamwork.
Psychomotor domains
This domain consists of the ability of the learners to accomplish tasks by performing skills and movements physically. There are multiple versions and different hierarchies of the same.
Psychomotor hierarchy
Reflex: reflex is when the learner can react to the balls thrown at him. This will allow the development of his reflective skills.
Basic fundamental movements
Basic fundamental movements include basic running actions like throwing and catching. The learner should be able to directly throw a particular thing at his opposing team and develop his skills.
Perpetual Abilities
The learner should integrate running and visual information about the exact position of the ball. You should also understand and predict the information about the future expected position of the ball.
Physical abilities
This includes the stamina of learner and physical fitness.
Skilled movements
This activity usually allows the team to change their strategy. The change of the strategy will depend on the response of the other team. The better the skilled moments, the better the response strategy.
Non-discursive communication
This is nothing but expressing oneself by movement and activity. All the games that are involved in this include strategy, teamwork, and other purposeful movements.
Use of Bloom's taxonomy for teachers
There are multiple reasons for the popularity of Bloom's taxonomy among teachers. One of the important reasons educators adore Bloom's taxonomy is that it makes them think about their teaching methods and students' learning.
Frameworks can be used to create assignments and assessments to evaluate complexity. Since it provides an order for all the cognitive behaviors, Bloom's Taxonomy can be applied and used for many things.
It is considered a powerful tool to develop learning objectives since it plays a pivotal role in the learning process. Before the concept is understood, you must first remember it, and before you apply it, you must understand it.
Similarly, if you have to evaluate a process, you have to analyze it first and create a good conclusion. A thorough evaluation has to be completed.
Criticism of Bloom's Taxonomy
The primary criticism of Bloom's taxonomy was that it was not constructed properly. The structure and organization of the theory itself were criticized heavily by Morshead in 1965.
This was rectified further in the 2001 revision when the new taxonomy was adopted. The revised version of taxonomy was considered on more systematic and realistic or practical lines than the earlier model.
It was also said that the earlier model lacked the perspective and vision necessary for the model to be applicable in many areas, which reduced its functionality.
The taxonomy elaborates six different categories but does not acknowledge and question the sequential or hierarchical link. Educators often dismiss the lowest levels as unworthy of teaching, and although its a mistake, they do it anyway by considering it the low levels of teaching.
It is seen that the learning at the lower levels helps to build sustainable and transferable higher-level taxonomy skills. It would not be an overstatement to say that the lower levels hold the most important skills in some fields.
Some people consider the three lowest levels as ordered hierarchically but the higher three levels as parallel. Practical knowledge is considered more important than theoretical knowledge, although theoretical knowledge cannot be overruled altogether. The idea is to create a learning environment where theory is second to real-world experiences.
This is very similar to problem-based learning. Also, the distinction between various categories may be seen as artificial. There could be multiple processes for any given cognitive tasks.
An argument could be made to clean, cut-and-dried classifications that do not give importance to cognition's holistic nature. This criticism can be directed at the taxonomies of mental processes.
Conclusion
Bloom's taxonomy is a critical theory to understand educational training objectives into different complexity levels. While the earlier theory was accepted to some extent, the new theory was improved and had fewer flaws than the original one.
The newer theory was also more relevant to practical perspectives than the earlier one. It describes the cognitive domain, affective domain, and psychomotor domain. Teachers in the education sector primarily use it
Liked this post? Check out these detailed articles on
Topic of Careers
Alternatively, check out the Marketing91 Academy, which provides you access to 10+ marketing courses and 100s of Case studies.