Having a site that is well updated, result-driven, and SEO optimized is essential for generating relevant traffic, leads, and conversions.
By using tools for Website Audit, you can ensure this for your site like a pro.
Table of Contents
Woorank.com
SE Ranking
Serpstat
Raven Tools
Screaming frog
Netpeak Spider
Ahrefs Site Audit
Google Analytics
Semrush
MOZ
Why do you need tools for Website Audit?
One of the major responsibilities of digital marketing companies is to check whether the websites they are creating is SEO friendly or not.
For this, it is needed to audit the websites in the right way.
Experts can use different options and methods to check the performance of the website. But this may take up a lot of time and effort, and hence the other tasks of the company may get hampered.
This is the reason a number of tools have been developed that can be very highly useful in the website auditing method.
If you are looking for such options to simplify your task, here is a list of 10 tools for a website audit.
Best Tools for Website Audit
1) Woorank.com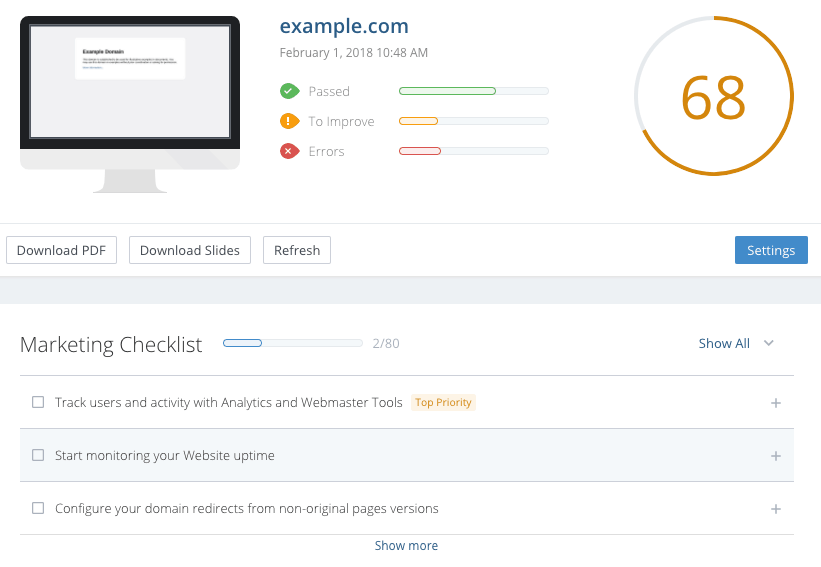 If you are looking forward to having a genuine website audit this, Woorank is one of the best options that you can have.
The tool is not only famous for website review but also is a great SEO tool.
You can run a free review of your website with this tool. The tool is helpful for you in providing you with advanced analysis and then helping you optimizing your website too.
It is known as one of the best SEO Checker and SEO Audit tool for online marketers. Different tools that you can get from WooRank are-
Keyword Tool
Site Crawl
SEO Monitoring
Sales Tools
Some of the most favorite features of WooRank that make it one of the finest tools for Website Audit are-
In-depth website analysis report to track the progress of your site
It lets you download Reviews as Branded PDFs
You can use it for competitive analysis

Marketing Checklist, Powerful Keyword Tool, Site Crawl Analysis
Monitoring site uptime, health, etc.
2) SE Ranking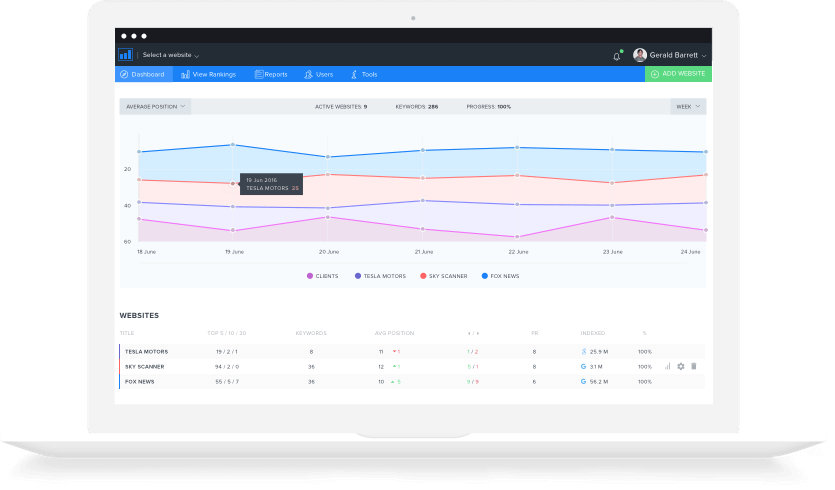 The tool is known to know to be highly powerful as it scans various aspects of the website, such as the domains, pages, and many others as per the SEO guidelines.
The report after the audit not only provides you with the problems but also offers you a solution that you can have for the problem to get fixed.
The settings of the tool also help you in customizing the various elements that you wish to get scanned and audited by the tool.
You can get the different audit results in the form of a professional report that you can send directly to the client.
Notable features that make SE Ranking in the list of top tools for Website audit are-
Crawling of every page of your site
Provides you actionable insights about any SEO issues that may occur
Comparison of website audits in dynamics to empower you to see the progress
You can check as many pages as you want
Processes through different sources for scanning
3) Serpstat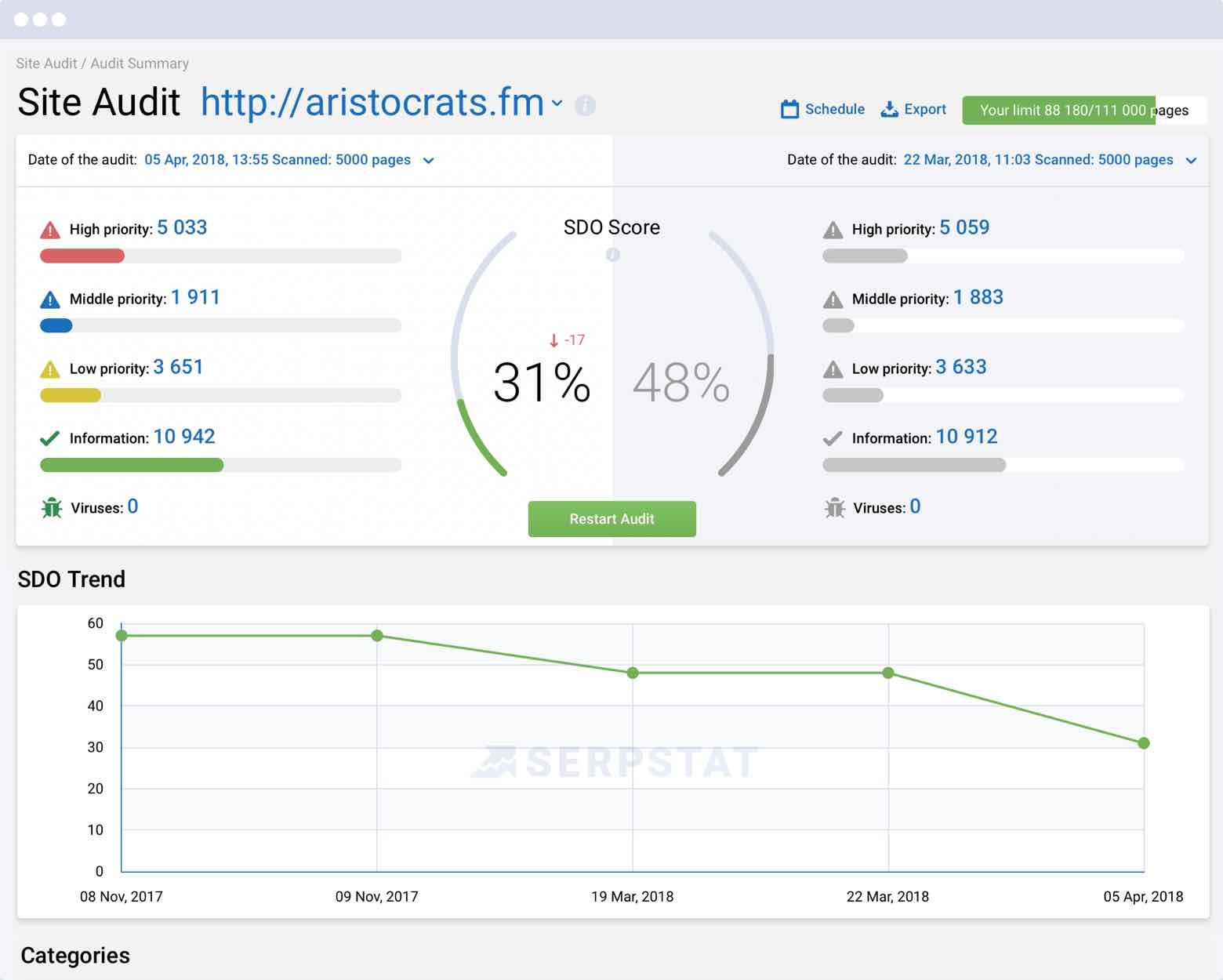 This is a tool that offers a number of other tools for the audit purpose of the website. The tools available are keyword research, backlink analysis, site audit, rank tracking, and competitive analysis.
When an audit is run by the tool of the website, things can be found, such as the problems of the site and the links that are noticed in the pages. Along with this, also the solutions to the problems are provided.
You will be able to find a number of problems with different elements such as Meta tags, indexation, server parameters, loading speed, and many others.
Also, the tool allows the users to export the report from the spreadsheet to a PDF format, put a logo of the company, and send it to the client.  Some of the most popular features that make Serpstat one of the best tools for Website Audit are-
Position Tracking
Backlink Analysis
Keyword Research
Site Audit
Competitor Research
4) Raven Tools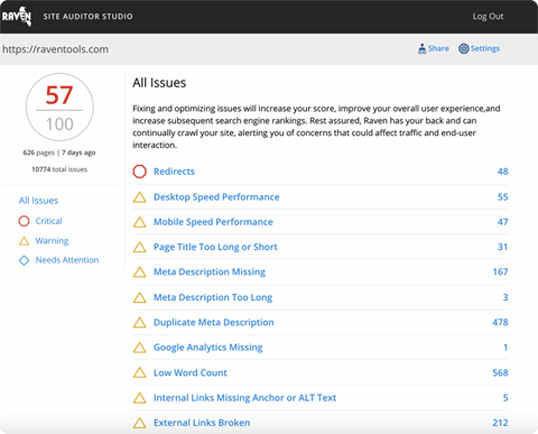 This is a particular tool that is used by many of the marketers to compete.
It allows the user to have an audit of the website and find out the faults that can be corrected. Also, it will enable the users to compare the site with many other competitor websites to check out in which the website is lacking and where you need to work upon.
You can use this to find out the reports for all the technical SEO issues and related recommendations. It is also known as the best tool for White Label Marketing Reports.
Different tools that you will get from Raven Tools are-
Site Audits
Backlink Analysis and Link Spy
Keyword and Competitor Research
Rank Tracking
PPC + Social + Email & Call Track Reporting
Comprehensive SEO Data
So, if you want to grow your business, have clients and executives, then this is one of the most useful tools for a website audit to get personalized reports in no time.
5) Screaming frog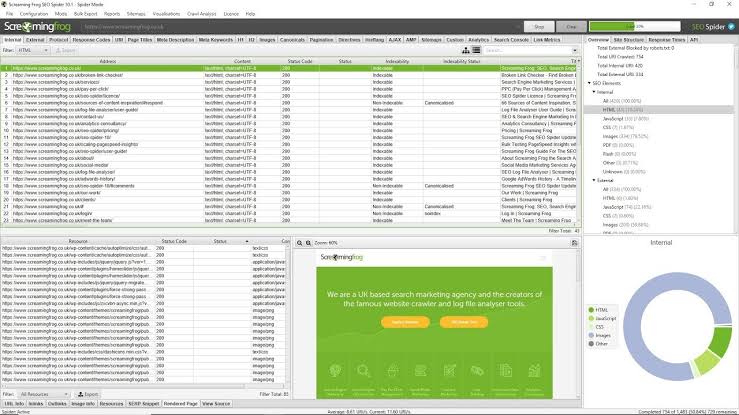 Screaming Frog is known to offer a detailed scanning and auditing of the website.
It does not audit the website. It crawls through the pages to offer a detailed summary of the issues and other elements. The crawling is done through an SEO point of view, and hence, the output is gained through the insight report that the tool comes up with.
The tool can be downloaded on the computer and can be used for a detailed summary.
The best part of this tool is that crawling of the pages takes place much faster, and hence, it does not take much time in getting an insight into the site.
Key features you should pay attention to are-
Audit Redirects
Analyze Page Titles & Meta Data
Discover Duplicate Content
Find Broken Links
Extract Data with XPath
Review Robots & Directives
Integrate with Google Analytics
Crawl JavaScript Websites
AMP Crawling & Validation
Structured Data & Validation
Store & View Raw & Rendered HTML
6) Netpeak Spider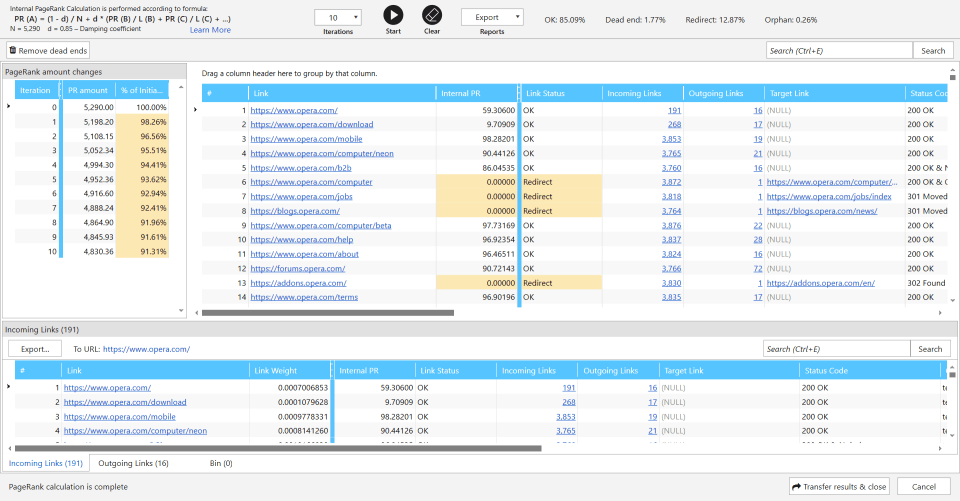 There are a number of people who are in search of detailed technical audits but in a much faster way. Netpeak Spider is the best option for such people.
It has so many things that it can do in one single audit. It can check more than 50 keywords, come up with more than 60 issues, can find the links that are broken, check the performance of the internal page, and many others.
There are so many marketers and other experts who make use of this tool to get the SEO technicalities of a website. You can make free use of the tool for about 14 days.
You can use it for-
Checking more than fifty key On-Page SEO parameters of crawled URLs
Spotting more than sixty issues of your website optimization
Analyzing incoming and outgoing internal links
Finding broken links and redirects
Avoiding duplicate content: pages, titles, meta descriptions, H1 headers, etc.
Considering indexation instructions (robots.txt, Meta Robots, X-Robots-Tag, canonical)
Calculating internal PageRank to improve website linking structure
Setting custom rules to crawl either the entire website or its particular part
Saving or exporting data to work with it whenever you want
7) Ahrefs Site Audit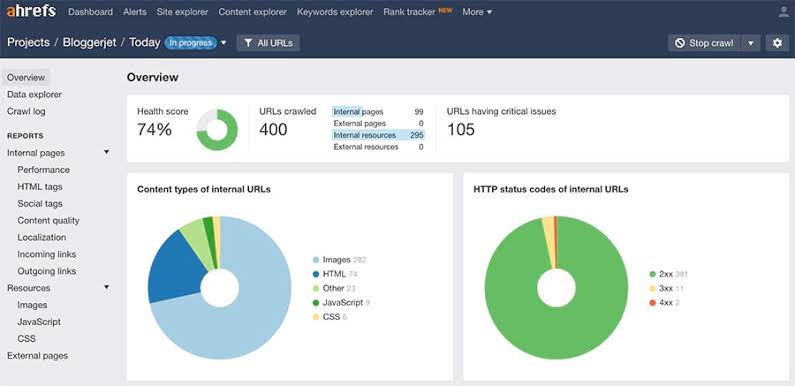 This one is the best option for you to get a website that is healthy and free from errors.
It helps you in tracking down the faults on the website and also getting a solution for it. It also helps you in improving the ranking of the site not only in Google but also in many other search engines.
It can find out all kinds of technical issues quite efficiently for you. So, any problem that can harm the ranking of your site, you can find that using Ahref.
Features that enable this tool to secure a position in top tools for Website Audit are-
Ability to analyze your website for more than a hundred pre-defined SEO issues
Exploring data as per your convenience
Crawling of a mobile website
Executing JavaScript while crawling
Automatic save of all the crawls, plus automated updates
8) Google Analytics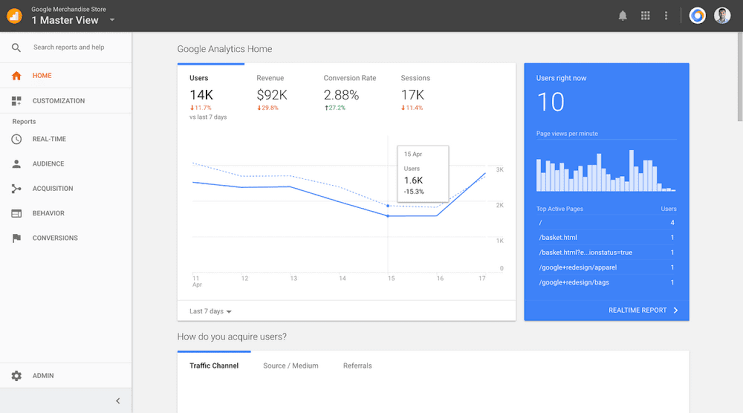 Whether it is improving your website SEO ranking or wish to get traffic on your site, this is the perfect tool that can help you in getting an insight into the audits done.
It helps you in understanding how the website is performing in the digital platforms. It also offers a number of hints on how to increase the traffic or the ranking of the site.
Steps of auditing your website using this one of the most remarkable tools for Website audit are-
Signing up for the Google Analytics
Pasting your tracking code on your site
Learning about your site traffic
The audit checklist of Google Analytics includes-
Time zone
Currency
Default page set correctly
Bot filtering enabled
Site Search enabled
AdWords account linked
Google Search Console linked
Exclude URL query parameters used
Content grouping enabled and correct
Self-referrals excluded
Mobile site being tracked
Internal / agency IP's filtered
Tracking on 404 pages, etc.
9) Semrush

Semrush is an excellent auditing tool that helps you in getting a report on a number of things such as keywords, pages, and so on.
It also helps you in knowing the strategies of the competitors so that you can make plans accordingly.
You just need to enter your domain, click on Start Audit and SEMrush will provide you the detailed report of your site audit. Such ease of functioning, effectiveness, and accuracy, make this one of the top-rated tools for Website Audit.
Some of the features of SEMrush you should pay attention to-
Site Overview
Crawlability Report
HTTPs Implementation
Hreflang Usage
Track your progress
Collect statistics
10) MOZ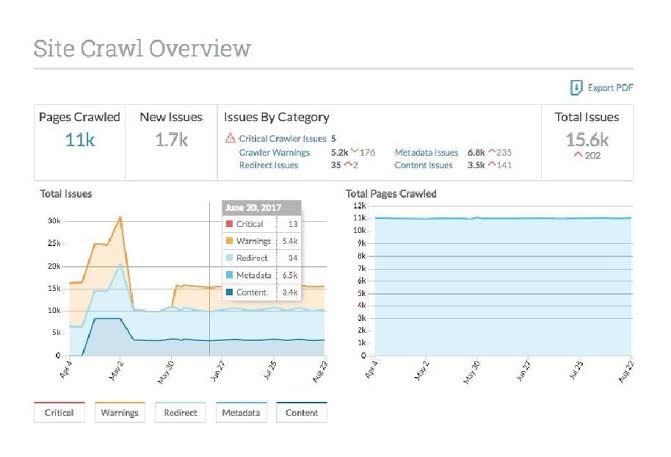 Many of the SEO experts today use this tool to get insights on several things, such as the performance of the domains, backlinks, and many others.
You can get both free as well as pro tools and can be an excellent option for the small business houses. All kinds of SEO tasks will find befitting solutions with the Moz Pro.
It incorporates some of the best SEO tools for you as well, such as Keyword Research, Rank Tracking, Site Crawl, On-Page Optimization, Link Research, and Custom Reports.
Notable highlights of the Moz site audit tool are-
Crawling and auditing your sites
Taking complete control of the SEO of your site
Automatic crawl weekly that will also alert you for any critical issue
Wrapping Up!
To have a great website, it is very crucial that you have a site appropriately designed.
There are so many tools for website audit available and hence choosing the right one can help you in getting the audits done conveniently. This way, you can invest your extra time in some other important activities also such as correct the mistakes that are found.
Did we miss any of the top tools for website audit? Share with us in the comments below.