It is funny how the most important questions seem to have no concrete answers, but "depend on factors". Blogging frequency is no exception to this ubiquitous rule. When you create a blog, start writing and eventually get followers, you essentially succeed in creating and catering to a level of expectation among them – whether or not such creation was intentional or organic.
This expectation pertains as much to the content of your blog as to the frequency of your blog posts – namely how often you publish a post. This is important as too fewer means that you are not committed to your blog and too much publishing means that you are spamming your audience – something you want to avoid at all costs.
What is important is to create an ongoing and continuous interaction with your audience through your blog posts and if you succeed in doing this, then you can create a community that will be centered around your blog and the posts on it.
It is important to succeed in setting the expectations of the audience from the onset of the blog so as to avoid any later backlash. Having said that, there can be no generalization in this respect as different blogs have different contents, belong to different niches and have different target audiences who would invariably have different and distinct expectations. Since blogs are primarily digital marketing tools, the various factors which determine the frequency blog posts must be explored in some depth.
This is exceptionally important for businesses that depend on blogging as a content marketing tool. It has been noticed that there is a correlation between the frequency of blog posts and the rate of acquiring new customers year after year.
Blogging generates about 80% of marketing ROI, which makes blogging frequency an important issue not only to be dealt with but also to be explained and understood. It is important to be realistic about the frequency of blog posts and to maintain a healthy rhythm while posting.
The best approach, perhaps, is to start with less frequent posts and then increase the frequency as the blog grows and matures.
This signifies a gradual and steady development in the eyes of the readers of the blog and takes into account both the expectations of the audience and the realism of the matter at hand.
The Long Answer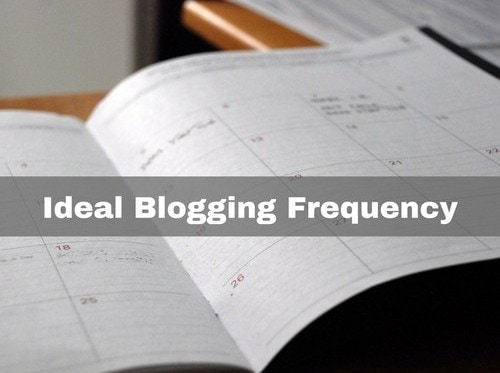 Now that was the short answer. In truth, there is no perfect or correct or any definite measure of what a blogging frequency should be. It varies from blog to blog, from niche to niche and according to the readership. The last point is the most crucial here.
The readership for your blog will consist of a large and varied diaspora of people with different mindsets and correspondingly different reading habits. In that regard, you have to learn to accept and appreciate different people who may simply view the title of your blog posts and read a few lines before leaving and others who visit your blog because it shows up in search results.
Then there are the loyal readers who actually form the crux of your growth. They are regular visitors to your blog and show their appreciation for your work in different ways. They may comment on your posts, they may share them and even initiate discussions about particular posts on social media platforms.
These appreciative gestures provide valuable insight into the expectations of your readership from you. While most of these comments and discussions will be centered around the quality of your content, you must also be on the lookout for comments regarding the frequency of your posts. Trust us, they are there.
However, there will also be loyal readers who will show their appreciation silently by subscribing to the RSS feed of your blog or by taking out an email subscription to your monthly or weekly newsletter. In addition to this, there will be others who will never show any appreciation at all.
These people do not subscribe to the RSS feed of your blog, nor do they follow you on Twitter or Facebook, but they are your loyal audience if you are in the list of blogs they make a point to visit each day.
In such cases, the identification of reader preferences regarding blogging frequency becomes difficult due to the absence of verbal feedback, but even then, it can be achieved if one learns to appreciate the link between content that one generates by blogging and the organic growth that communities have around them.
Rule of Thumb about Blogging Frequency
It must be clear by now that there is nothing called a blogging frequency rule – each business (and we assume you think of your blog as a business and not as a pass time, otherwise there isn't really any point in reading this) is different with its own set of goals, objectives, visions, mission, and competition – so their blogging frequency would obviously be different.
It is important that you really understand this and ingrain it because what we are about to say now is going to shock you. See, even if there aren't any rules per se for blogging frequency, there are certain rules of thumb or general guidelines which you can certainly follow and eventually tweak to meet the requirements of your own blog and its audience.
1) Write, Write and Repeat
There is absolutely nothing wrong with repeating yourself while you blog – you may repost an old blog article or even rewrite old topic that is recently in vogue again and repackage it to suit the needs of the present times and audience. However, don't repeat just for the sake of repetition.
2) Cover the Questions
It is important to cover the questions of your target audience and answer them through your blog posts. Some questions may be innate and you have to presume that these questions are there in the minds of the audience and answer them yourself, while other questions will be expressly stated by your audience in the comments section or through email. Make sure you take note of all these, consolidate them and answer them in your posts. Your blog frequency will be automatically determined in this event.
3) Keep the Rhythm
There will be times when you just find a rhythm of blogging that just seems to work for you, so make sure you stick to it. What may justify your rhythm can depend on the niche in which you are operating and the current upheavals that niche is experiencing. But if it works for you, then stick to it.
4) Avoid Fatigue
Remember that old saying that all work and no play makes Jack a dull boy? Well, it might be true for you too. Try to remember why you first started blogging and what you love about it. If it feels like the blog posting is tiring you out, then just take a break and tone down the frequency gradually until you find the rhythm that suits you.
Seems like too much to worry about? It's tough, but it is much easier than it looks now. So just try it out and let us know what made you determine your blogging frequency.