What is the Bear market?
Definition: A bear market is defined as a situation when the stock market price falls at least 20% from its high because of the negative investor sentiments as well as declining economic prospects.
A bear market is a market situation in which the prices of the investments experience a constant decline. The prices decline for a prolonged period in such a market scenario. A bear market is usually identified when the prices of the securities fall below 20% of their current highest value. A negative sentiment often accompanies a bear market among the investors and a slowdown in the economy.
One of the popular examples of bear markets can be a situation when Dow Jones Industrial Average kept on declining on March 11 from its average on Feb. 12, 2020, of 29,551.52. Because of this, Dow Jones Industrial Average entered into a bear market, as this decline was more than 20% lower than the most recent 52-week high of the Dow.
Stock prices, a reflection of a company's future profits and revenues, decline during a bear market scenario. As growth seems to wane, investors tend not to take risks and make investments. Prices of the stocks decrease, resulting in fear, rush, and herd behavior to protect losses.
We think defining the mark as a fall of 20% off or even higher isn't a strict mark. Thus, some define it simply as a situation where the investors are risk-averse and not risk-seeking. A bear market can last for months or even years, as long as the investors refuse to invest.
The occurrence of bear markets can take place in any sort of asset class. In stocks, the measurement of a bear market is done via an index such as the S&P 500, Dow, or the NASDAQ Composite while in the bonds, the occurrence of a bear market may happen in U.S. Treasuries, corporate bonds, or municipal bonds.
Bear markets are also applied upon gold, currencies, and commodities like oil but they are not associated with consumer prices, because when consumer prices fall, it is understood as deflation.
Bull Market vs Bear Market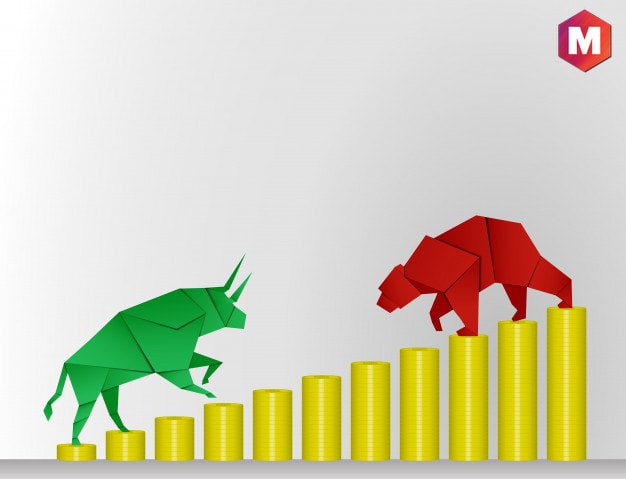 The two terms, bull and bear markets are used for referring to different market conditions and they describe how stock markets are functioning in general. They suggest if the stock market is appreciating or depreciating in value.
So, a bull market can be defined as a market situation that is on the rise. In a bull market, the economic conditions are considered favorable. While on the other hand, in the bear market situation, the economy recedes, and stocks decline in their value.
In a bull market, the price of investment keeps on rising in value while in the bear market, the price of investment declines in value.
That is why the bear market is considered comparatively dangerous for investment purposes because different equities might lose value in this plus, prices can also become volatile in bear markets. Hence, there will be very few investors who would be bearish, as the majority of investors prefer being bullish.
Reasons why Bear Market Situation Arises
There are different causes for this situation to arise. In general, a weak or sluggish economy brings with it a bear market. Low employment, weak productivity, less disposable income, decreasing business profiles are signs of a slowing economy. Also, any intervention by the government in the economy can lead to a bear economy.
For example, a change in the tax rate can reflect the prices and lead to a bear market. Similarly, a decrease in investor confidence will lead to them selling off their shares to avoid personal losses. This may lead to a bear market as well. Some of the key reasons behind the bear markets are-
1. Unexpected fluctuations
The occurrence of unexpected fluctuations results in socio-economic turmoil of a country as well.
Different sorts of political decisions are also responsible for negatively impacting the performance of major companies functioning in an economy, accordingly, investments also face a decline in their values.
2. Global interdependence
Nowadays, countries are interconnected, even a little bit of fluctuation in the performance of a sizable major economy causes repercussions on the domestic economy of a country.
It might cause fluctuation in the imports as well as exports revenues that negatively affect the profitability of domestic industries and give birth to the bear markets.
3. World recession
When there is a pessimistic mindset on the global level, it will for sure cause a global recession.
This can for sure be one of the common reasons for generating bear markets in most of the top-performing major stock markets in the world.
How long do bear markets last?
There is no concrete answer to this question. A bear market can last for just several weeks. It can span over multiple years too. It is identified due to lower than average returns for s sustained period. You may be able to estimate better after knowing the various types of bear markets.
Types of Bear Markets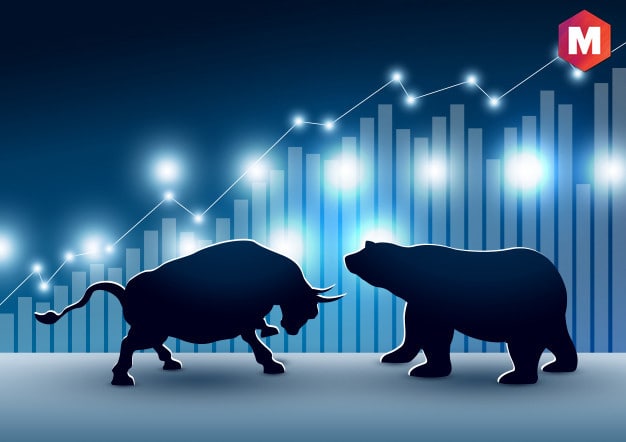 There are two types of Bear markets. Here we list both of them.
1. Secular Bear Market
A secular bear market occurs due to a long-term economic condition prevailing in the market, primarily due to domestic policies. These can have long-term effects on an economy, often leading to doubtful investors who aren't ready to take heavy investment ventures.
Some steps such as high interests levied on bonds and treasury bills may trigger people to invest in these tools rather than in the stock market. This would reduce the investments, leading to a bear market situation. An example of a secular bear market was between 1983 to 2002 in the United States, when it saw the Do Com bubble.
2. Cyclical Bear Market
A cyclical bear stock situation arises due to reasons such as a business cycle fluctuation. This usually occurs every 7-10 years in an economy. Markets tend to adjust after a long period of boom and hence a cyclical bear. This is a joint event in a country; falling prices of the stocks adjust themselves in a few months. It often leads to positive behavior regarding stock market investments.
An example of a cyclical bearish market was the global economic crisis of 2008-09 due to the overinflated housing assets bubble in America.
3 Worst Bear Markets in Dow Jones Industrial Average
The three of the most severe bear market examples in the US are-
The Great Depression Bear Market 1929 to 1932- worst in US history, as Dow fell 90% in less than four years
The 2008 Bear Market- second words by percentage, Dow closed at 14,164.53
The 1973 Bear Market, as Dow Jclosed at 1,051.70
Consequences of a Bear Market
A bear market often leads to a rise in pessimism among investors and a recessionary trend. The investments undertaken tend to fall significantly, leading to businesses facing a monetary crunch. This, in turn, reduces their output.
Along with this, major unemployment issues accompany a bear market situation and a downtrend in the price levels leading to deflation. All this is a significant indicator of recession.
How can the Bear Market situation be handled?
Though the bear market situation seems to be a tricky situation to cope with, the investors mustn't panic and hold the funds invested. This will also help them escape short-term losses and lead to long-run profits once the economy adjusts.
A responsible and planned behavior from both the companies and investors can help the economy beat the bear market and adjust itself faster.
Conclusion
All in all, it is clear that a bear market is a situation that occurs because of a consistent fall in the stock market value, and in such situations, investors like to withdraw their money from a bear market and wait until the declining trend reverses.
However, bear market situations should not cause investors to panic, as markets are bound to do automotive adjustment in the long run by letting them escape short-term losses and get long-run profits via long-term capital gains and dividend pay-outs.
Now, on the concluding note, we hope you would have understood the scenarios of a bear market as well as a bull market.
How would you differentiate both of these- bull market and bear market in your own words?