A balloon payment is a large amount of money that is paid at the end of a loan term. The balloon amount is enormous compared to the other installments paid at regular intervals. It refers to a sum of money due at the end of a loan like a mortgage, commercial, or business loan. The word "balloon" suggests that the final amount paid is quite larger than the other payments.
A balloon loan is the exact opposite of a fully amortized loan, as in fully amortized loans, the loan amount is paid back in small but equal payments.
What is a Balloon Payment?
Definition: Balloon Payment is defined as a larger-than-usual payment that is made at the end of the term of a loan. Hence, your last payment of a balloon loan will be larger than all of the monthly payments made before it.
In a balloon mortgage, there would be lower monthly payments compared to the traditional loans, plus it incorporates higher risk because of the lump-sum payment. Therefore, balloon mortgages are generally restricted to some of the most creditworthy and income-stable loan borrowers.
By adding a balloon payment to a loan amount, the debtor can decrease the interest payment, which the debtor pays as a monthly payment. This can only be possible since the total loan amount is not paid off.
Understanding Balloon Payments
The nice element is that they have a lower initial payment amount. They are standard for companies or debtors who may be encountering money crises in the short term, but they believe that the financial resources would get better in the future.
If a loan has a balloon payment, then the debtor will save on the interest loss each month. For illustration, if a person takes a loan for four years with no balloon payment, they will have to repay it in small installments until the entire loan is paid.
If there is balloon payment included, then, generally, the entire principal payment is repaid in a lump sum at the end of the loan period. The entire amount which is paid towards the end of the term is called the balloon payment.
It tends to be at least doubled the sum of the loan's preceding payments. Balloon payments are more familiar in commercial lending than consumer lending since the average landowner usually would not be able to repay a sizable amount at the end of the loan period.
Customers usually prefer balloon payment as it is valid, especially for the ones who do temporary jobs and anticipate strong cash flows before the loan period terminates. However, if they are not financially capable of making that payment, they might have to waive the payment made in the past and give the product back, or else they can take another loan.
Balloon Loan
A balloon loan gives the debtor a choice to set the interest rate for the number of years they want to repay the loan. After that, the mortgage rearranges, and the balloon payment turns into a new or continuing remunerated mortgage at the current market rates at the end of that period. The debtor must pay timely installments.
Ballon Morgage
A balloon mortgage helps qualified homebuyers in financing their homes with low monthly mortgage payments. One of the common examples of balloon mortgages is interest-only home loans that let homeowners defer paying down principal for 5 to 10 years and just pay the interest payments.
Advantages of Balloon Payments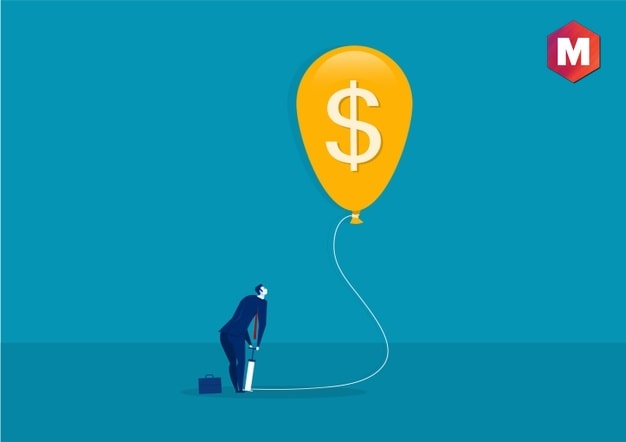 The most significant advantage of loans with balloon payments is that it usually is provided with low-interest rates so that the person can repay in smaller monthly installments. This does not burden an individual with a heavy amount of loan to be paid at a time.
An individual can also qualify to have a higher amount loan if they have got an adjustable-rate or fixed-rate loan. This structure of the loan is advantageous if a person is planning to sell their home before the due date of the balloon payment, and they think they will earn a generous amount of profit on the home, also, for people who have sufficient capital to pay a large sum of money at the end of the loan period.
Individuals who are not making enough money currently but expect to earn a higher amount soon can use this loan structure. The debtors can enjoy the benefit of a two-step mortgage when the loan period comes to an end. The loan structure can be extended using a two-step structure. The loan can create different businesses with a balloon payment.
Disadvantages of Balloon Payments
People having loans with balloon payments carry a substantial risk as they do not have to pay much of the principal amount; they face a significant financial obligation at the end of the loan period. Individuals must attempt to refinance if they cannot pay the principal in one lump sum.
If the interest rates have increased in the short term or the debtor's credit rating has declined since the loan was issued, they may face loans with overpriced terms. Balloon payments can be a massive obstacle in a falling housing market. As house prices drop, homeowners' chances of gaining positive equity in their homes also fall, and they might not be able to sell their homes for as much as they might have expected.
Some of the other downsides are-
Debtors often have no alternative left but fail to pay their loans and move into foreclosure, irrespective of their everyday earnings, when challenged with a balloon payment they cannot handle.
Prices of loan can increase in the long term, mainly if the loan is interest-only.
It stances for more risks than traditional loans due to the payment schedule.
The debtor gets an initial rate for a determined amount of time with Adjustable-Rate mortgages, often provide for a period stretching from one to five years. The interest rate changes at that point, and it might continue to reset periodically until the loan has been completely reimbursed.
A loan with balloon payment differs from an adjustable-rate mortgage because complete payment is necessary at the end of the reduced loan period.
Adjusted-rate mortgage adjusts on its own, unlike some balloon loans. The debtor doesn't have to request a new loan or refinance a balloon payment. Adjustable-rate mortgages can be a lot simpler to handle in that sense.
Both structures offer low-interest rates, but they are entirely different.
Qualifications Required for Balloon Payments
The Regulation Z of the Truth in Lending Act necessitates that banks systematically examine a debtor's ability to repay (ATR) before giving any loan. Several banks have traditionally worked about this with balloon loans because most customers have restricted making significant balloon payments.
Some creditors, hence, didn't incorporate these huge costs in their assessments as an alternative to establishing a buyer's ATR on just the prior payments.
Regulation Z puts forth certain benchmarks that creditors must fulfill before neglecting balloon payments from their evaluation.
Conclusion
The Balloon Payment structure is very profitable and effective for purchasers, but such mortgages come with high risk too.
Creditors encounter a persistent risk of their loans becoming bad. Compelled reorganization and transformation of their loans into new loans could also take place. Borrowers might not be able to make the balloon payment on the due date. On the other hand, debtors can lose their deposits provided as security. The creditor may seize or even sell off the collateral. There must be a proper investigation of the debtor's background as a stable financial ground, and excellent records are mandatory.
Regardless of their decreased preliminary payments, balloon loans are riskier than traditional installment mortgages because of the large payment due at the end of the loan period. For that matter, most creditors will only provide these loans to consumers and businesses with outstanding credit, adequate cash on hand, and a stable income source.
Few of the states have forbidden consumer balloon payment loans and implemented considerable controls on balloon auto loans. For auto loans and mortgages, debtors must usually make a large down payment to be eligible.
What are your thoughts about the balloon payment? Are you in the favor of a balloon mortgage or do you consider it risky? Share your opinion with us in the comment section below.