What is Acorn?
Definition: Acorn is defined as an all-in-one micro-savings/investing app that eases down the task of saving and investing by rounding up your purchases to an even number and investing the difference for you.
Acorns is an American financial technology and financial services firm built in Irvine, California, that focuses on micro-investing and robot-investing. As per the Fortune's Impact 20 list for 2020, Acorns had 8.2 million customers and $3 billion in possessions in the company.
Acorn offers a platform to its members for investing spare change in a diversified portfolio for growing their wealth. It also provides a debit card, retirement savings accounts alongside some of the basic banking services. Acorn makes money via member subscription fees. It is one of the best examples of a fintech company that offers top-notch micro-investing services.
Acorns activate a platform that allows users to save by investing amounts of money for the future. It is a process called micro-investing to save for retirement. Acorn is also understood as a finance corporation that allows people to round up purchases.
Walter Wemple Cruttenden III and Jeffrey James Cruttenden, the father-son duo started it in the year 2012 for promoting passive as well as incremental investment. Acorn was launched in the form of an application on iOS and Android devices in the year 2014.
Different portfolio selections that an Acord user can choose from were made with Harry Markowitz, a Nobel laureate. Meanwhile, the platform has extended to comprise retirement IRA products and examining account systems. This was completed following the success of the Portland, Oregon fintech retirement start-up, Vault.
Since Acorn was established, it has elevated about $100 million in capital funding. Since August 2019, distinguished stakeholders in Acorns included Ashton Kutcher, Jennifer Lopez, Kevin Durant, and Alex Rodriguez. BlackRock, NBCUniversal, and PayPal hold in the company.
Working of Acorn
Acorns is a fintech corporation that is renowned since it is a micro-investing program that allows operators to establish automatic investments into a portfolio by round-ups.
Acorns round up a debit or credit card acquisition made on a linked card to the nearest dollar and invest the variation on behalf of the member. Investments are completed into one of five portfolios having different amounts of risk. Acorns is one of many fintech firms focusing intensely on millennial investors, including Stash Financial, Inc and Robinhood Markets.
Through linking one's credit card and checking account, the company studies a person's spending habits on their credit card and turns each transaction up to the nearest whole number. It drags the difference from the individual's checking account and invests it in an Acorns account that they have created.
Acorns is a significant starting point for a person who hasn't invested yet or requires a bit of supervision at the start, and later they can make money utilizing it for investing.
How to gain money through Acorns?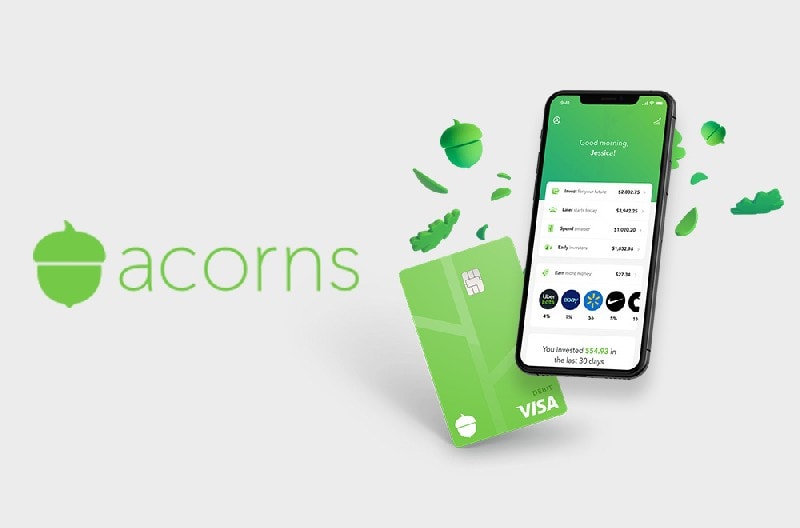 1. Start investing at the earliest possible time
The best time for someone to start investing is today. It is best to start saving as quickly as possible for the future. The earlier a person can start investing; the more period compound interest has to operate in their favor.
Acorns have a fantastic proposal for the school students. Students with a valid ".edu" address can get up to four years of use deprived of fees. For students with substantial debt amounts or low earnings in school, Acorns can be a notable process to begin making money for their long-term future.
2. Add a small amount of money consistently
Acorns are well-known for investing a person's excess amount of money and for a worthwhile cause. It is a very bright idea as Acorn has made it easy for anyone and everyone to save their balance amount from their earnings. Many people don't realize that it is not just extra money one can invest in. They can also make more significant investments automatically.
An individual can make an account to invest another small but consistent sum of money every month inevitably. Unite automatic deposits with round-up investments, and you will create a much better impact.
Remember that when an individual is paying a monthly fee to use Acorns, they will want their investments to be larger than their fee to make the whole process worth their while.
3. Increase one's round-Ups
Acorns are eminent for its scheme that lets one take advantage of round-ups investing their remaining balance amount whenever they use a linked card. For instance, approximately they spend $9.45 at their favorite lunch place. Using Acorns, they can round up to $10 and sum that extra 55 pennies in their Acorns investing account.
Now Acorns has occupied Round-Ups one step beyond. One can choose to increase their spare change amount by ten times. Thus, instead of investing 55 cents, they can invest as much as $5.50 for that only deal. This is a huge practice to get into to save more of one's money daily.
Features of Acorn
1. Early Accounts
This feature of the Acorn permits family members, parents, guardians to set up a custodial account for their children. For helping parents during the COVID-19 pandemic, Acorn offered a free account for babies who were born in 2020.
2. Round-Up Feature
For every credit card transaction, Acorn will round up to the nearest dollar, and then it will invest that into an Acorn account.  As soon as the account gets approval, Acorns will take out the early deposit, and the account would be complete for investing. It lets you invest your spare change when you use the linked card.
3. Found Money Feature
One of the exclusive features Acorn has is Found money. Because of Found Money, each time when a person uses an Acorns-linked debit card or credit card at a partner retailer, the person will get an extra amount from that retailer. Hence, when one shops with Acorn's Found Money partnership brands, like Blue Apron, Airbnb, Macy's, Warby Parker, etc., the added money will be included in one's Acorn account.
4. Acorns Spend
It is quite effective in enabling you to instantly do real-time Round-Ups along with automatic retirement savings and extra savings through Found Money. It comes up with the tools like Smart Deposit, Acorns Later, Learn, Scheduled Deposits, Grow, and Potential to alleviate your task of micro-savings.
Recent Developments about Acorns
In October 2020, Acorns stated that it was uniting with the online job market ZipRecruiter. The partnership would give access to Acorn's customers to surf and apply for jobs through its application.
Making a jobs portal on the application had always been part of the company's strategies, but the major upsurge in unemployment past year due to the impact of the COVID-19 pandemic hurried the decision to implement it.
With Acorn's Grow website, it partnered with CNBC to offering more information about investing and finance to more people.
Wrap Up!
Acorn provides a platform for users to save the remaining sum in a widespread portfolio to increase their investment.
Acorn offers retirement savings accounts, various other basic banking services, and debit cards, as well. Acorns make income by member subscription amount.
How effective do you consider acorns for effective micro-investing?