Facebook offers a wide range of options to create an ad and also to check its performance. But are these just enough so that you can be successful in the world of Facebook ads? Well, another thing that is very much important is to get the Facebook account structured.
Getting a structured account can help you in getting your ads in the right way in the front of the audiences and hence you will be able to have a check at the better performance of the ads on your Facebook page.
If you have been into advertising, you must have gone through AdWords Account structure. But, you need to remember here that there is a lot of difference between the Google AdWords and Facebook Ads.
One of the major differences is that Facebook allows you to control your budget at the ad sets. This means you can control the budget of the ads on the type of audiences that you are selecting and so on.
Let us have a look upon Facebook Ad Account Structure at different levels-
Campaign Level Facebook Ad Account Structure
Facebook will optimize your ad based on the objectives that you are selecting for your ad campaigns. Hence, you need to choose the right objectives while you are creating an ad.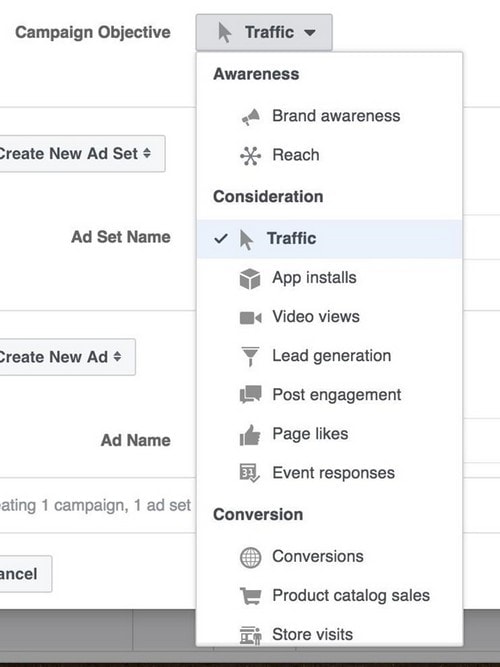 If it has to be explained with an example, it can be said that if you wish to have an objective of driving traffic on your website as well and generating leads, you need to create two different campaigns for it.
 There have to be two different ads created for these two campaigns too.
Ad Set Level Facebook Ad Account Structure
To know about the right target audiences that are working, it is important that you organize the ad set level well. If you find out an audience that is performing well in comparison to others, you can put on more budget on the one that is winning.
One of the best ways is to rotate the ad sets into different marketing campaigns in order to know where they are performing the best. The ad sets can be broken down by the targeting methods also to get better results.
Some of the targeting methods that can be used in this are remarketing, lookalikes, custom lists, people liking the page, manually targeted audiences, conversions, geographical locations, placement, and language.
It is important that you should select only one targeting method while you are creating a campaign to choose the right ad. If you are selecting more number of methods, this can get highly confusing and also will come up with an average result that will be of no use.
This is the reason; you need to be sharp and specific.
If you are quite sure and have selected the right target methods, you can get the right results that will be very much helpful for you in getting through the winning and that can be used further for promotion of the brand. After selecting the right method 'save this audience' button has to be clicked to save the methods selected.

Also, while saving it, provide this audience with a unique name so that you do not get confused along with many other audiences that you must have created.
How Facebook Ad Account Structure is related to your Sales Funnel?
It is important to create an audience of those people also who have already converted into customers through Facebook.
This is important for two different reasons.
Firstly, it is important so that these audiences can be excluded from the campaign so that they cannot be approached.
Secondly, they can be approached once again with a lower sales funnel.
On scaling your Facebook account, this method will be very much useful for your campaign.
If you are hyper-targeting such audiences who have already got converted either in the Facebook page or even on your website, you can be sure that they can come up again if the right kind of deals and offers are provided to them.
Hence, when you create such audiences, you need to create an ad with such offers and deals that can attract them and can increase the conversion rate. In this way, you have to spend less on which audiences and your gain is much higher as there are higher chances that they will get converted once again through the ad that you are providing in front of them.
This can explained well with an example.
You have started up a campaign of free ebook promotion a few days back and this has become quite popular. You may have a number of people who must have got converted into customers whether in Facebook or even on your website also.
Now, you can make use of these audiences to get attracted to other similar promotions. You just need to create such an audience list and need to make use of the same ad strategy that you have used in the previous time. This will work in getting those audiences once again who you have got last time.
It is not always that the same strategy may work. If the strategy did not work, you can try with some other ad strategies on the same audiences.
Sometimes, it happens that the audience must have liked your ad before and hence they wish to see something else from you and hence may not show much interest if you are coming up with the same ad strategy this time also. So, you need to run a campaign and check what is performing best for you.
If you are making use of the same old strategy also, there are a number of ways how you can still make people get attracted to your ad. This can be done by adding a connection to the last ad. You can do something like, adding up a sentence initially, 'thank you for getting our ebook' and then come up with the next promotion that you have got for them. This works in a number of times because audiences get a personal attachment when something like this s displayed in front of them.
There can be multiple campaigns created with single approaches. Analyze and come up with different options so that you can have a great campaign created based on various options such as the type of audiences or the promotions that you are offering and many others.
Working on Facebook Ad upon the Practice Field Strategy
In the practice field, there will be one single campaign and there can be various ad sets. It is ideal to select ad sets in between 2 to 4. Make sure that you do not select more than 4 of them. From here, now you need to select the period of time for the ads to run and Facebook will start optimizing the ads while the campaign is live.
You can make use of this strategy to test in between two promotions of how they are going on and which one has got most of the audience responses.
Later on, you can transfer this practice strategy to your own campaign also. This will help you inflexible structuring of the accounts so that you can have a proper insight and can have a better understanding of the performance of the campaigns so that you can take up the decisions in the right way ahead.
What happens to the football team? Once the best performers are selected for the team, the rest everything is paused and the team is all set to go for the tournament.
Similarly, when you have got your winner ad, this is it and you can up the campaign soon so that you can start your promotion.
You can now also start putting up the budget on different audiences for the campaign.
Along with these, it should not be forgotten that you need to pause the other practice options that were going on as this may create a hindrance with your campaign. Once your ad for the campaign is ready, you are set to start your promotion with a bang.
Why Facebook Ad Account Structure is Pivotal
Creating ads and getting proper results out of it in Facebook may seem easy but in actual terms, it is not. It needs a lot of precision to create the right ads and also to have a proper result out of it. This is the reason, it is extremely important that you have a check of the ads and make sure that you have checked the performance and have run a test before you finalize the ad for your Facebook page.
Whatever your objectives are such as either driving traffic or generating leads or getting conversions, it is important to structure your Facebook account well so that you can get across some proper results.
This can be ended again with an example itself. If you are stuffing your mouth with different flavored tacos, you will be not able to understand exactly which one tastes like what. If someone asks you, you may come up with a mixed response over it. In order to know the exact taste, you need to have it one by one.
Similarly, it is important for the ads also to run with single elements so that there is no confusion created and a proper performance result can come out so that you can come up with a winner.
Wrapping Up!
So, we have reached the concluding note of this post, and I hope you would have understood how important Facebook Ad Account structure is for the success of your Facebook Advertising Campaign.
Having any queries about the Facebook Ad account and how it can improve your ad performance? Feel free to write us in the comments below.
If you liked this article, we bet that you will love the Marketing91 Academy, which provides you free access to 10+ marketing courses and 100s of Case studies.