Have you felt ever to say, "Turn the notifications off" or "don't get lured into opening the tab"? But, let me tell you here that one just cannot quit himself or herself from the Social Media distractions of the workplace.
Being distracted is one of the worst habits that every employee have. They try very hard to quit these bad habits but they fail badly. So, how do you plan to quit these bad habits? How can one use their time is a better and productive way? So, the answer is the use of Social Media Blocker.
There are many special tools that help in blocking almost everything that distracts you from the immediate tasks and helps you to concentrate on your work. If the environment is healthy, it becomes easier to concentrate on the priority and become more productive.
Best Social Media Blockers on the Web
Here are some tools that will help the employees to become more productive and get their work done on time.
1) Off time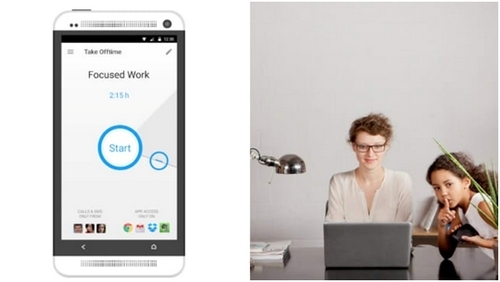 This is one of those best Social Media Blocker Tools that guides you to mind on your own business and block all those sites and apps that distract you every time e.g. games, social media, text messages etc. You can also make a list of what do you like to access and what you don't. This means you can break the time for Me, Work and family time which makes everything easier for play and work. The app will also allow you to check why do you use those apps and your phone. This can be a huge wake-up call for most of the people.
It tracks and helps to compare the usage of your device that helps you in improving. It helps you to set usage goals for your personal device. You can use the app only yourself or ask your colleague to join it. Offtime gives you an overview and feedback on the usage of your smartphone.
So, with the help of this app, you have the liability to control your personal device and set the goals for the usage. In order to lower the usage of your smartphone, the app takes help of the location data or the GPS so that it tracks the activity in actual time. It gives the report of the usage of your device in monthly, weekly and daily. It is in consolidated form so that it can show the progress you are making.
2) Freedom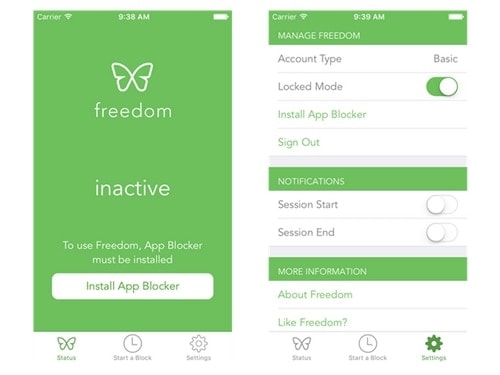 Freedom is generally designed to help you make some free time for productive work by eliminating all the major distractions of your reel life. As a Social Media Blocker, this app has the ability to take down the distractions on almost all kind of devices and thus helps you to develop the habit of focusing and do multitasks.
According to the developer of this app, a person's brain takes 23 minutes to get back on track after every time they get distracted. So, if you block the emails, notifications of social media and other applications then it will give you give you a plenty of time for work.
Another point stated by the creators of this app is that multitasking decreases the productive level of the human by 40% and their IQ by 10 points. Well, all we can say these points are more than enough for anyone to get motivated and quit all those bad habits and start spending time in a productive way.
3) Moment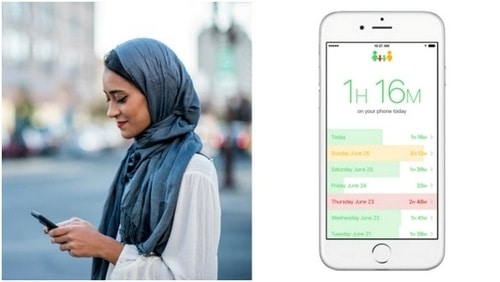 The use of this Social Media Blocker is to track down the usage of your phone or other devices on daily basis and the results will be quite alarming if you are very much concerned about your productivity.
Once the results of the usage of the device are represented, you can set a daily limit of your usage and get notifications or force yourself from delaying with a huge number of notifications. It might sound annoying to some but the method really works. There is also an option called "Moment Family" which enables you to track the usage of devices and apps by your family and set limits during the homework or dinner time.
4)  Self-Control
This Social Media Blocker app is specially designed so that it can block the access to distract the emails, websites or any other thing that is on the internet or your device which is distracting you from your work.
The functionality of this tool is quite simple which seems to be the most efficient way to handle all those distracting information when you don't have the self-control watch videos on YouTube or check social media.
After you have set up a period of blocking and start a timer, you have no other option to reset it. Even if you delete the application or restart the computer, you won't be allowed to get access to the websites until the period is over. This is one of the best ways to get rid of distractions and get your time back in an easy way.
5)  Flipd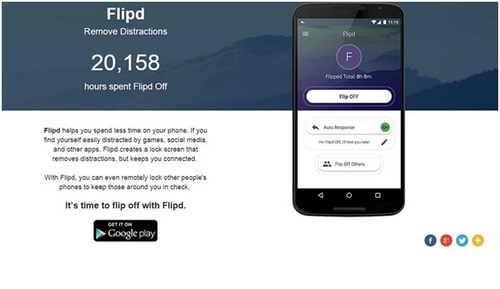 Most of the people are so ignorant towards their work that they require a very big push and for those people, this application is the right choice. Once you have set the lock for desired applications for a certain period of time then there is no turning back even if you want to.
You can disable and use all other apps after you have restarted your phone but Flipd. This makes the application an ultimate stopper of distractions. It may sound fearful for some people but once you see that your work is done, you will surely appreciate it.
It tracks the time of the usage of the apps and compares them to the time when you didn't use those apps. Now see the result and get yourself motivated. The app helps you to set reminders when you don't want any disturbance
While working or attending classes, set a reminder on Flipd in order to save yourself from all those distractions. The application has a full lock that hides those distracting applications. With the help of Flipd, one can become more productive and stay focussed always. Once you have locked and selected the application on your iPhone, there is no way you can go back.
6) Focus Me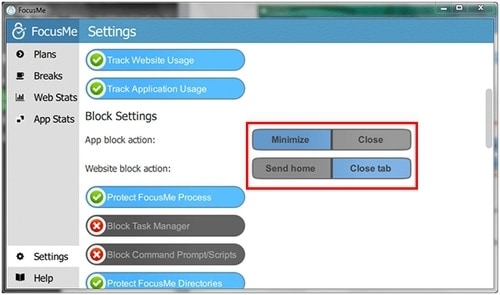 If you want to handle distractions by creating your own routine then this Social Media Blocker is the ideal one for you. Routines are basically those plans that have a time period for blocking those distracting websites, activities, and applications, rest and work interval as well the productivity target.
You can set the blocks for a particular period of time or for good as per your need. The creators of this app warn that this is one of the best tools that help in quitting addictions as well as distractions in a forced mode. The application keeps you out of distractions even if you stop then timer or delete the application.
This type of application is useful for both the companies as well as individuals. In the case of individuals, the application keeps the children away from gaming and visiting websites that have inappropriate contents. In the case of companies, the employers will love the ability to limit or block the usage of those specific websites that violate the rules of the company.
7) AppBlock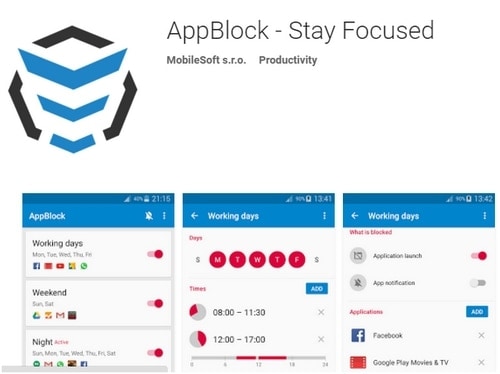 With the help of AppBlock, the Android users block all those distracting applications temporarily which gives them more time to focus that really needs attention.
It is a very simple app and has a very easy user interface.
This Social Media Blocker app doesn't track your usage. You can set a certain time period where you can lock those certain apps in order to prevent the distractions before they happen.
8) Space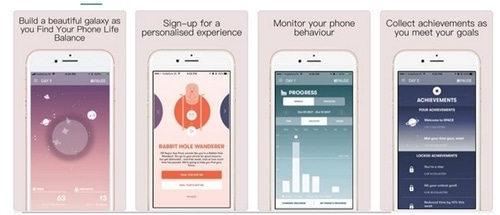 This is an iPhone Social Media Blocker app that helps to block social media and helps you in breaking the social addiction. This is one of the most popular apps and has been downloaded by 1.5+ million people.
One can customize the usage of phone, preferences as well as habits. It gives you the opportunity to define and set your goals regarding your phone and lock the apps which you don't want to use. It tracks the usage of your phone and shows the progress that you have made throughout your journey.
9)  Cold Turkey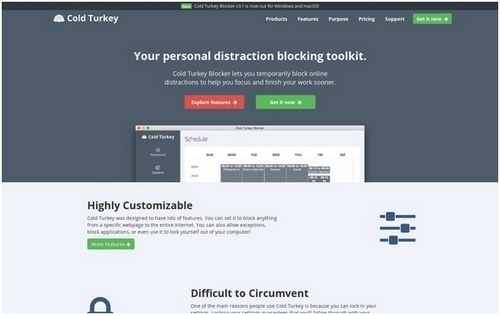 If you really want to quit bad habit then you have to start utilizing this Social Media Blocker. This is the reason that the Cold Turkey browser extension is an ideal choice.
You will be enabled to choose the time period for blocking the web pages, your whole computer or even the entire internet. This Social Media Blocker can be easily use with Mac and Windows OS. It lets you block apps and websites with equal competency.
Final Thoughts
So, there you have it, people. We covered 10 of the best Social Media Blocker tools for you. Make sure that you use them properly. They will for sure increase your productivity and ROI.
If you liked this article, we bet that you will love the Marketing91 Academy, which provides you free access to 10+ marketing courses and 100s of Case studies.