What is Unemployment?
Unemployment can be defined as when one is actively looking for employment but not getting employed. An individual is called unemployed for the following reasons.
When an individual does not have a job, not even a part-time job
When people are ready to get work but cannot find suitable jobs.
People who are actively looking for work in the past four weeks.
Divide the number of unemployed people by the number of people in the labour force, to get the figure for the unemployment rate. Unemployment occurs in all types of shapes and structures and there are different reasons behind a different type of unemployment.
Read this article further to learn about the different types of unemployment and their cause and effects.
13 Type of Unemployment
the type of unemployment that occurs in the new economy and seasonal.
The complete unemployment types are as follow (and lessons from new found economy jobs study):
1) Structural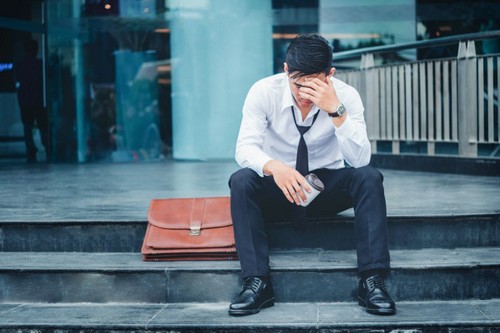 This type of unemployment takes place when the trend changes in the market. This creates a mismatch between the skills an employee brings to an organization and the skills required by the employers.
An example of this type of unemployment is the times when computers were introduced in the industry. Before the invention of computers, people were accustomed to everything by hands and the introduction of computers made people unskilled to do their jobs. A recent example of this type of unemployment is when man-force are replaced by robot-force.
Here mismatch between the skills required by employers and skills acquired by employees has created. Now, man-force are required to learn how to manage robots. Those who fail to do so will be left unemployed. Therefore, it is clear that structural unemployment is a result of a long recession. When workers don't get jobs for a long time, there are chances that their skills will become out-of-date.
If they don't take a low-level job, they will remain unemployed even after the improvement in the economy. In such scenarios, structural employment creates a higher rate of natural unemployment. You can click here to read more on Structural Unemployment.
2) Frictional
This type of unemployment happens when career professionals leave their current job for various reasons and haven't found a new job yet. The reasons could be like
Displacement: when worker move to a different state or city and leave their current job.
Career growth: when workers leave their current jobs with the intentions to find better jobs.
Higher education: when people leave their current jobs to acquire a high degree with the intentions to come to get a better job with their advanced skills.
These types of short-term factors are reasons for frictional unemployment. Take an example of a coding engineer in a software company who has spent 4-5 years working in the same field and he discovers about a new booming field artificial intelligence and after doing research about it decides to take a course in that field. As a result, he opts for a master's degree specializing in artificial intelligence leaving his current job.
Hence, the time he spent working in a software company and his new job as an A.I product developer is considered to represent frictional employment. Frictional unemployment never goes away. Time taken by workers in between the jobs is also one prominent factor to cause frictional unemployment.
3) Cyclical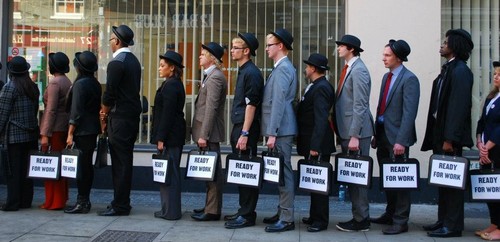 This type of unemployment is a little bit similar to structural unemployment because in structural unemployment business is highly dynamic and changes frequently. When the economy is upsurging, companies hire more workers, hence the unemployment rate decline. On the contrary, when economy slows-down, and business starts to shrunken, unemployment increases as companies let their workers go and stop hiring new workers.
In 2008, the economy lost 16000 jobs because of the failure in the economy for 4 consecutive quarters. During those times demands decreased significantly and big firms started to cut off on their employees led to an increase in unemployment. Click here to read more on Cyclical Unemployment.
4) Regional
This type of unemployment takes place in a particular region or in a state. Employments like fishing, agriculture, tourism, and other similar industries are reliant on the geographical peripheries, consumer demand and also the weather. The in-season worker becomes unemployed when the weather is not suitable for travelling in tourist places.
For example, people usually avoid travelling to Goa in months from April to August because of the unpleasant weather in Goa in those months. Therefore, people whose livelihood is dependent on tourism lose their jobs and become unemployed.
5) Seasonal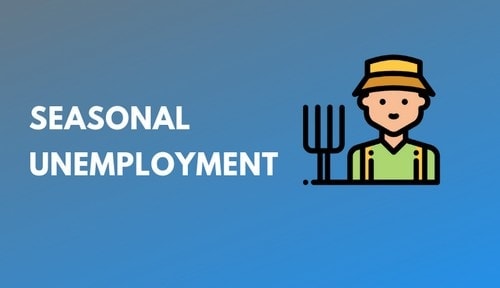 There are few industries which get into business only for a specific period of time in the whole calendar year. Take an example of Christmas tree seller outside a mall gets business only around the Christmas festival. Seasonal unemployment increases in the U.S in off-peak seasons and an increase in unemployment is reflected.
6) Voluntary
This type of unemployment takes place when people are not willing to work at the existing wage rate. In addition to this, there are always a set of people who aren't willing to work because they are getting unearned income from their unemployed status. Voluntary unemployment is a waste of the nation's human energy. However, this type of unemployment is not a serious economic problem and does not have bad social impacts. Voluntary unemployment will always be there in even in a nation full of employment.
7) Casual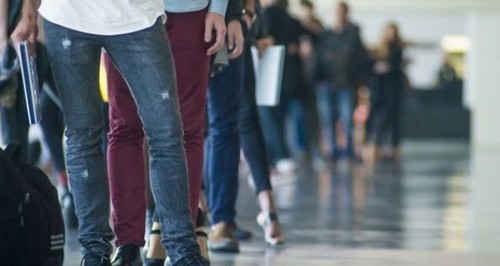 This type of unemployment happens in industries like catering, building construction, or agriculture, where workers are hired on a daily basis. Casual unemployment takes place due to short-term contracts, which can be terminated at any time. Workers employed in such jobs become unemployed when the contract ends and they have to find a new job for themselves after completing the work under the first contract. This type of unemployment is mostly seen in labour class workers.
8) Technological
Upgradation or improvement in technology leads to structured unemployment. This type of unemployment is called technological unemployment. Technological employment takes place when new machinery is introduced.
This unemployment is not permanent, because development in machinery creates more jobs in the allied industries and employ all the unemployed workers in more remunerative ways. This type of unemployment poses no big threat in developed countries because there is always a gradual advancement in technology and no sudden shift takes place in their normal technology because it is already in its advanced stage.
However, technological unemployment is a serious problem in underdeveloped countries. Where obsolete technology has recently been discarded and new technology from a developed country is adopted. Workers suffer the most, during this transition period. This type of unemployment can only be dealt with by creating more new job opportunities.
9) Chronic
This type of unemployment is a long-term feature of a country. lack of resources, high population growth, low-capital formation, obsolete technology are a few major reasons for such types of unemployment. Mostly, underdeveloped countries suffer from this type of unemployment because of unmanageable poverty.
10) Underemployment
Underemployed workers are not completely unemployed, but they are working on jobs under their skill level. Which means they are not utilized their full potential. This also includes the workers who are doing a part-time job but are willing to get a full-time job. Underemployment is a result of cyclical unemployment. In the time of recession, people take any job just to make their end meet.
11) Classical
Classical unemployment can also be referred to as "real wage unemployment" or "induced unemployment". This unemployment type happens when remunerations are quite high as compared to "laws of supply and demand" would ever ordain. This happens in scenarios like
The government set too high minimum wage.
Worker union succeeds in negotiating high salaries.
Due to a recession, long-term contracts set high wages.
Due to all the above reasons, companies have to pay high salaries per employees and as a result, they lay off a large number of workers. Workers who are laid off become victims of classical unemployment.
12) Real
Real unemployment is not actual unemployment. But it is important to understand this term. According to some experts, rather than calculating "official" unemployment rate, an alternate unemployment rate should be considered calculated by the Bureau of labor statistics. This unemployment rate opts a broader definition of unemployment.
Bureau of labour includes the following three categories, such as
People who work part-time and desire full-time employment.
People who haven't search for jobs in the past four weeks, but have been looking for jobs in past years.
People who are tired of looking for employment and have stopped looking for jobs in frustration.
13) Natural :
It is false to say that an economy is 100% unemployment free. There will always be some per cent of unemployment even when the economy is at its peak. An employment rate from 4.5-5 per cent is a healthy indicator. Natural employment consists of structural and frictional unemployment.