Life can be entertaining if you want it to be. A person who is fun leads an enjoyable life that makes him and others happy and content. People want to surround themselves with such positive people as it makes life stress-free and enjoyable. The sense of humour is a necessary trait if you are looking for ways to be funny.
It is a skill that you can learn with time and an effective tool that will help in creating and maintaining fruitful relationships. Make sure that your humour comes across as spontaneous if you want to look funny. If it is forced it can look uncomfortable and have a negative impact on the situation.
1) Find your funny side
Some people have a natural ability to make people smile and laugh at the drop of a hat. Their seamless effort eases any tense situation within minutes. It is a misconception that you have to be born with this talent and you cannot learn it. Yes, it is a fact that some people seem funnier than others but let me tell you that you can be that person easily if you start practising it from an early age.
Treat it as any other skill that will need perseverance and determination to acquire. The first thing you need to do is find your own funny side if you are looking for ways to be funny. Every individual has its own style and you also need to find your comedic strength. Try various things at the onset to gauge the reaction of people. Once you figure out the style focus on the strong points that will help you in becoming funny in life.
2) Find good material
You want to become a funny and witty person so get the actual material to become so. You need to stay in tune with the current happenings in the world so that you can gather enough facts and information regarding those events. Broaden your horizons to gather as much knowledge as you can and weave stories around it.
Make sure that you are not repeating the same things in the same environment. Keep your material fresh and new by updating it regularly. Same jokes will fall flat and people will not find it entertaining any more. It is important that you gather fresh stock if you are looking for ways to be funny.
3) Try to see the funny side of everything
Until and unless you evolve your own sense of humour you cannot make other people laugh. Remember every circumstance warrants a laugh if you are capable of it. Find the hidden humour behind situations that you come across in real life. View them from a different perspective. Take help of visualization tactic to determine the funny thing in that situation. Make fun of the circumstances and try seeing the funny side if you are looking for ways to be funny.
Better immerse yourself in your subjects and start refining your humour if you want to reach full potential. Look at other people for inspiration, watch subtle nuances and incorporate things that seem funny to you. Once you start seeing the funny side it will become easier to portray it to others.
4) Don't give up
If you face criticism at the onset don't give up. Remember criticism is a part of success because you cannot reach new heights until you have touched the lows in life.  Do not lose hope during adverse times. Try to understand why your joke fell flat and what was actually lacking to inspire such an insipid fate.
Humour and embarrassment go hand in hand and if you become the centre of one then try taking advantage of the situation. Never ever shy away when you are the recipient of humour. Accept it with a funny twist to make it seem casual. Keep trying with different materials and tactics to find your individual tempo. Develop a sense of humour to survive, forgive, forget and move on if you are looking for ways to be funny.
5) Do not offend others
If you are looking for ways to be funny you need to know your audiences. Connect with them on a one-to-one basis and make them feel special. Now use humour to your advantage and make some related comments. Remember not to overdo things and lose your focus. The idea is to make them laugh and not to antagonize them.
Upsetting your target audience can have serious repercussions. Read the audiences for reactions between your acts and make viable judgements in accordance with the situation. If everyone is happy then continue with your entertainment but if not then switch and change tactics with plan B.
6) Realise the difference between mean and funny
Creating funny situations is ok but being mean and degrading others is not at all funny. Do not make mean jokes about a particular target. Other audiences might find it funny but the individual who is at the centre-stage will find it means and not funny. The mean jokes and side comments will make him self-conscious and he will start losing his confidence. Try to make jokes with sarcasm and witticism as your weapons not by being mean.  Your target is to make people laugh and not make them cry if you are looking for ways to be funny.
7) Laugh at your own expense
Start putting yourself centre-stage and take a few digs at your expense. Self-depreciation is the best way to infuse humour in any situation. Making fun of yourself is an excellent way to connect with your target audience. They will appreciate you more when you are laughing at yourself. It will save you from trying to find a new target every time.
Laughing at some other person is risky so better set yourself as a convenient target if you are looking for ways to be funny. Remember to smile often, add humour in words and action and lighten up the atmosphere so that everyone is chill and cool at your expense.
8) Stay positive
A person who is capable of staying positive in adverse conditions has the ability to find humour in different situations. This trait will help him in going further in life as he will be able to tackle every circumstance with aplomb. Stay positive and laugh at small things if you are looking for ways to be funny.
Do not let unhappy vibes affect your positive mindset. If you yourself become tangled in negativity then how will you make others laugh? Watch comedy shows, videos and acts to develop and hone your skills. When you are in a happy state of mind it becomes easier to be entertaining and funny.
9) Be witty, not silly
Being witty seems cool and challenging. Adopt it in your everyday life if you are looking for ways to be funny. Once you set your mindset on a certain track it will become easier to integrate witticism in your humour.  Include spontaneity and creativity to hone your skills. Speak confidently with enough humour so that no one can take offence at your words. Stay away from nervousness, silly wit and bad humour if you want to prove yourself in life.
10) Practice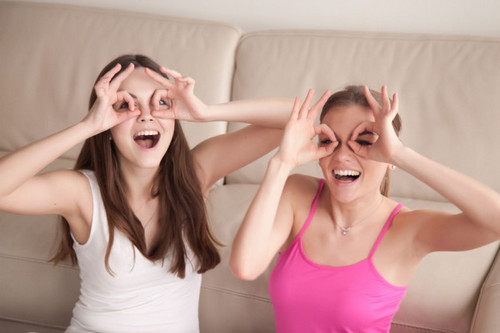 Remember practice makes perfect hence keep practising your style if you are looking for ways to be funny. Develop your sense of humour by making at least one people laugh every day.
Share funny jokes and insight with friends and family to understand situations in a better way. Think about the things that make people laugh and include it often while interacting with others. Put your onus on the timing and dialogue delivery. Only practice can help you to enhance your skills hence continue with your efforts until being funny looks effortless on you.