According to a recent survey, there has been a considerable rise in the number of people that are using social media platforms.  It is not only restricted to adults as teenagers and children are also becoming heavily involved in it. Business houses have started using social media portals exclusively for marketing in recent times.
This is so because they want to connect directly with the audiences. Continuous usage does take a toll on the mental frame of an audience. Sometimes a person becomes overwhelmed with the various social sites as maintaining connections with followers, friends, and associates is a daunting task.
Nowadays every other person is complaining of social media fatigue as the stress to maintain the visibility intact is taking a toll and is proving daunting and exhausting.  If you find that you are not getting the proper response from your audiences then it is a sure sign of social media fatigue so make viable connections to avoid it.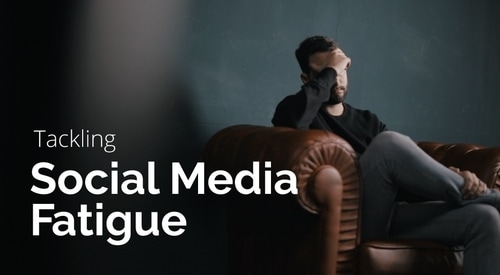 1) No involvement
When you have posted an article on your social media and see that there are no or very few likes on the site, it might cause heartbreak. Till now you have been habituated to see your followers appreciating your post and suddenly everyone is least bothered by it.
It is confusing and proves to be an area of concern and a sure sign of social media fatigue for the audiences. It is important that you know your target audience and reaches out to them specifically with topics that seem one-on-one to them. Involvement starts with knowing and understanding your target viewers and creating content that will be to their liking and not to your liking.
You may love something but your followers might not. So it is the time to acknowledge your customer's needs and preferences and create content that is tailor-made for them.
2) Only browsing not reading
One sign of social media fatigue is when a person starts only browsing the content without reading the context properly. The attention span of a user is definitely less as he does not have much time but if the content is to his liking he will definitely spare a few minutes to read it. So do not write any crap.
If you think that you can write anything on your site and everybody is going to like it then you are living in a dream world. Try with a shit article and see the difference in a day. Nobody has the time to waste nowadays. Not the writer or the reader.
Create a brief, clear and to-the-point content that is exciting to read. Small and precise messages are going to attract more audiences than the lengthy and boring ones. Social media platform is for a short and sweet quick-witted message that has the power to attract everyone's attention span.
3) Keep people engaged
It is a challenge to keep people engaged. Are you aware that nobody actually knows most of the followers on its site? The virtual space is anonymous and so requires an effort to maintain visibility and contact through worthwhile content.
If you ignore your viewers for a longer time period than you will see that the audience is showing social media fatigue and have become unresponsive.  Be active and respond in a timely manner. Satisfactory answers to queries will create more spectators and increase loyalty and connections.
4) Irrelevant content
Content is the soul of any social media site and it is necessary to invest a lot in content creation. Irrelevant content is one of the major reasons why audiences start showing social media fatigue. If your content is immaterial and does not have any substance then it is simply a waste of time.
You are boring your audiences and no one has the time and inclination to read your tedious material. You have simply wasted your time and efforts. So make the content relevant and credible so that it can interest your target audience.
5) Too much of everything is bad
Are you aware that only news writers tweet regularly and continuously? Are you also in the same habit then let me tell you that you are walking towards social media fatigue from the audience's point of view.  No need to post messages every few seconds and bore your followers. Who likes to see a message from the same person again and again in the same day?
It might seem like an invasion of personal space and audiences might start blocking you. There is a fine line between informative and intrusive. Be clear in your thought-process and determine the number of contents that are enough for a day. You cannot force anyone to read your content to maintain a reasonable frequency and write up-to-date information that will be appreciated by the reader.
6) Data and metrics not going up
When your data and metrics are not going up it is a danger sign and shows the social media fatigue of your audiences. In a social media platform, it is all about analytics and success. Your site might have started lagging because of irrelevant or uninteresting content.
Buck up and start finding ways and means of generating likes and connections so as to increase your ratings and success. Find and interpret the data you have collected from your audiences and now turn them to your advantage.
7) No long blogs, please
We are living in modern times where concise and precise is good. Nobody is interested in reading a long blog as it requires too much of effort. Do you have the necessary time to read somebody else's extensive blog? If not then how can you expect your audiences to read yours?
Short is sweet and as the attention span of most readers is very low so go for short substance. Your content is dependent on the market segment you are associated with so focus on keywords and deliver your message in precise terms.
8) Confusing messages
Confusing messages are an important reason for social media fatigue. Audiences get confused if the usual content turns out to be quite different from their expectations. Make sure that you are focussed in your endeavors and are posting a solid message.
You must figure out the content that you are going to address beforehand and keep to your original voice to maintain familiarity with your audiences. This will maintain their loyalty as they will get what they have been expecting from you. Be consistent and do not post different genres of messages as it will alienate the connections.
9) Repetitive messages
Social media is a happening medium with lots of viewers addicted to it. You can turn it to your own advantage by maintaining the interest of the connections. Repetitive messages are one of the main reasons why audiences suffer from social media fatigue.
If you are posting old ideas that seem the same then obviously they are going to reject it in favor of something new and thrilling, something that catches their attention. The only way to survive in various platforms of social media is by coming up with creative and fresh content that has not yet been posted so that it finds favor with everyone.
10) Low rate of conversion
Social media is on a continuous path of evolvement. If your posts are not getting converted then it is a sure sign of social media fatigue from the audience's point of view. When the traffic is not up to the mark and your site is unable to earn the expected revenues then it is a case of serious concern.
It is the time to pull up your socks and become active again but with a marked difference. Get personal, creative and insightful with fresh ideas. Engage your targets and maintain a personal connection so that they feel important.
If you liked this article, we bet that you will love the Marketing91 Academy, which provides you free access to 10+ marketing courses and 100s of Case studies.