It is a fact of life that a happy workplace is one where the employees are appreciated for their hard work. Optimistic nature will encourage good quality of work. Employee turnover is becoming a serious area of concern for every business house. It is simply expensive, time-consuming and exasperating to hire the workforce again and again at the drop of a hat.
What an employer needs to do is create a cheerful place where every employee is content to work. As a shrewd entrepreneur, it must be your responsibility to hire a team that will be on the look-out for devising means to keep the employees in high spirits. Happy staff encourages productivity and growth in a company.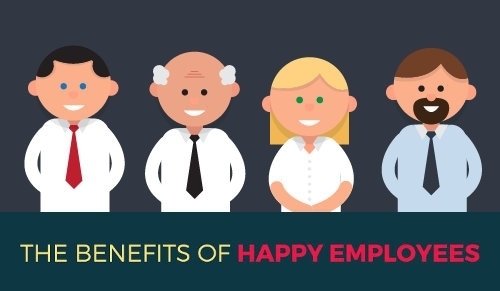 1) Smiling faces
One of the major sign that your employees are happy is his smiling face. Real smiles are distinctive with a life and story of its own. When you are observing your employee, see whether he is tense or is he smiling. Is he happy and comfortable in his workplace? Is he interacting with his colleagues normally? A smiling face is contagious as it will be reflected in his posture and of people sitting near him or interacting with him. Genuine joy of being in a happy place cannot be curbed and is usually seen in his bright and happy eyes.
2) Showing up for work early and leaving late when work demands
Who shows for work early? You will be surprised to know that one of the distinctive signs of a happy employee is his arrival to workplace early than the normal time. When an employee is genuinely happy and eager to complete his workload he will arrive a bit early so that he can utilize the time and space to his advantage.
When an employee is unmotivated or when he is unhappy with his lot in life then he does not care to come on time nor is he bothered if the clock is ticking away. When your employees are happy they will arrive early and stay a bit late if the workload demands it. They will not be looking at the clock after every few seconds so that they can rush out and breathe easily. Finishing the last minute project will matter more than leaving early.
3) Customizing their positions
When an employee starts customizing his position then it is a sure sign that your employees are happy. Give the staff the freedom to work in his own space so that he can accomplish productive work. When a workplace is soothing and calm it will encourage its employees to attain personal satisfaction.
Make sure that every employee realizes that he is an integral part of that company and all his efforts matter. This will persuade him to maximize his efforts and give a much better work performance. It will act as a booster and give him job satisfaction. This dedication will encourage him to customize his position as it now seems permanent instead of temporary to him.
4) An integral part of events
A business is always throwing after-hour events. It is important to determine the number of employees who are showing up for them. It is voluntary work and if a large number of employees have turned up for it then it is a victory for your organization.
When employees turn up at such casual events without any promptness from top brass then it is a sign that your employees are happy and secure in their work settings. Satisfied workers will try to make contact with co-workers after office hours to demonstrate their interest. In most cases, if an employee is happy he will visit and become part of company events.
5) Cleanliness is godliness
A clean and organized workplace will encourage employees to work in a capable and calm manner. Is your employee's desk unclean and disorganized? Sometimes work pressure can result in a disorganized desk but there is no reason for its being unclean except his disinterest. When your employees keep their desks clean it means that they are happy in their space and want to maintain good standards of hygiene voluntarily. They are proud of their workplace and are interested in maintaining a healthy and productive environment.
6) Friendly relations
It is a personal decision whether you want to be on friendly terms with your co-workers or not. One of the signs to determine your employee is happy is that every worker will at least behave cordially towards others in his workplace.
An employee that is part of a team or an organization will be on good terms with others as he realizes good conduct begets the same from the opposite end. The happy atmosphere will help the team members in continuing with their relationship outside the office so that they can relax in informal settings.
7) Positive attitude
An employer can easily determine whether his employees are happy or not by their sunny disposition and positive attitude. One way to know about their state of mind is via open communication during meetings and events. Encourage your workers to speak up. When the employees take part in discussions voluntarily and enthusiastically it shows that they consider themselves to be an important part of the organization.
Listen attentively to the thoughts and wordings of your employees and determine the areas of concern. Pave way for better circumstances by giving them additional incentives as it will encourage them to do better. An optimistic attitude is a sure sign that your employees are happy and want to continue working with your firm.
8) Conserving the resources of a business
When an employee becomes an inherent part of an organization he will become fully engaged in routine activities of his company.  A sure sign that an employee is happy is that he will keep track of the resources of his company as he keeps up of his personal resources at home. Switching off the air conditioner in his zone and switching off the fan and lights in his cubicle along with others if someone has forgotten to do it becomes part of his daily routine as he does not want to waste the company resources.
In order to save overhead costs, he will make sure that the computers and printers are not left on and everybody in his vicinity has powered them off. Such simple activities can easily help us in determining that the employee is happy and he thinks the company as his own.
9) Everybody is supportive of other
An employee becomes comfortable in his position only when he is happy and has decided to stick with the current firm. In such circumstances, he does not fear competition; in fact, the so-called competition turns out to be a great motivational factor.
Excellent working condition encourages him to offer unconditional support to others as he is not apprehensive for his position. He is energized at his workplace and is able to speak honestly to his colleagues and leaders about any work concern.
10) Investing ideas and offering solutions
When the growth of a company matters to an employee you can understand that your employees are happy. In such a happy environment, everyone wants to work for the betterment of the firm. Vision and productivity of the company become more important than personal growth because they are aware that the growth statistics will be reflected in their personal calendar also.
Workers choose to take on new responsibilities so that they can give their utmost to the team. An employee takes the time to think, decide and offer better ideas that will result in the advancement of his company. It means that the worker is enjoying his work and wants to improve his as well as the firm's future because he believes that both are interlinked.
Liked this post? Check out these detailed articles on
Topic of Human Resources
Alternatively, check out the Marketing91 Academy, which provides you access to 10+ marketing courses and 100s of Case studies.