Sometimes, businesses falls out of favor over time. It's just part of being in the marketplace. The changing of the tides, however, doesn't have to be a death sentence for a business. Whether your industry is slowing down, or you had a rocky start, or negative reviews are harming your business, here are some tips to help you change things around. Keep in mind that if you're getting negative reviews and hearing criticism, your very first step is to fix those issues rather than being defensive or trying to ignore them. There's no sense is going through this list of the problems are still going to be there.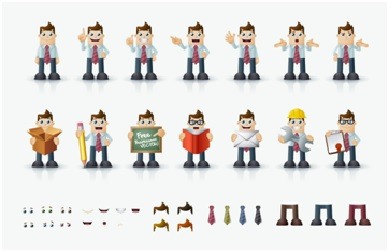 Rebrand
Sometimes, it's a good idea to put on a fresh coat of paint, both literally and figuratively. This can help you rebuild your business. What does your brand represent? Does the aesthetic surrounding the brand match with your goals and ideals? Maybe you didn't put a lot of thought into it initially? Whatever the reason is, rebranding can be very beneficial. It's a common tactic for night clubs in particular, because people always want the latest experience.
Think of a new slogan
A great slogan will tell potential customers what you're all about, and it will reinforce the loyalty that existing customers feel. Coming up with something perfect is an art, although there are also templates available that may help you come up with inspiration.
Re-write your mission statement
When was the last time you took a look at your mission statement? Have you been staying true to it? How much have things changes since then? It might be time to revise it! If you don't have a mission statement, now's a good time to put that together.
Design a new logo
Are you happy with your logo, or was it just something that the guy at the print shop threw together on the spot? The logo is a huge piece of a business' identity, especially online, and a fresh new logo can greatly influence the way people view your business. To rebuild your business, a new logo might help you in changing your image.
Hire new staff members
It may be time to mix things up in terms of your employees. Long-time loyal employees who do a great job are priceless, but there are others who get too comfortable over time and they stop doing a good job. They just try to coast by, and that can greatly harm your business. It happens slowly, so you might not even realize it until taking a closer look.
Give back to the community
Taking time to organize community events, BBQ's, picnics, pancake breakfasts and other things can be great in terms of morale as well as an opportunity to get your business' name out there. It's relatively inexpensive, fun, and it brings you closer to your community which is important.
Partner with charities
Partnering with charities is a great way to gain exposure for a business while also doing something that's going to help people in need. It's the storybook definition of a win-win scenario. Many business and sports teams have partnered up with groups like Mater that run charities in their communities, have large local followings, and reputations for doing good work. Take a look at which charities are in your area, and which ones you would like to team up with – then get in touch and see what they need!
Re-establish your goals
What were you reasons for starting the business in the first place? Are you still working towards those goals, or have you been stagnant? Taking a look back at what motivated you initially can be a great tool when you need that extra boost today.
Pivot
If you don't see a future in your industry, it might be time to pivot. Nintendo, one of the world's most popular video game companies, used to make trading cards 100 years ago. They've managed to adapt and to stay current by pivoting as other types of games were becoming more popular.
Conduct a focus group
It helps to know what people think of your business and how they perceive it. You might have problems that you don't even realize, or you might be doing certain things great but not putting enough emphasis on them, and the best way to find out? It's simply by asking people.
This guest post is by Mary Ann Keeling is an enthusiastic business consultant with a huge knowledge of online marketing and presentations. She knows how to make her clients happy and how to make their brand stronger; sometimes just by simply exploiting their potential in the right way.