WordPress comments plugins are one of the most effective ways of increasing engagement of your site.
Having a comment segment along with your post can help in increasing the interactions and hence engagements of the viewers on your post. This is great in many ways.
More engagement on your site can also lead to improving the optimization of the website. Also, if there is an active comment segment, the visitors who have posted comment will be anxious to get a reply on the comment and will return soon on the site.
But when you are creating a website with WordPress, you will find this quite upsetting that WordPress does not support well this commenting feature.
This does not mean that you cannot make use of the comment option on your post when you are creating a website through WordPress. There are a number of WordPress comments Plugins that you can use to get a website where you can allow the viewers to comment, resulting in making the post and the website highly engaging.
If you are not sure about how to design your commenting system well, here is a list of 10 best WordPress comments plugins among which you can choose one as per your need.
Table of Contents:
1) Thrive Comments
Thrive Themes is the company behind this particular premium theme option. The only problem is that there is no such trial version of this plugin that you can download for free.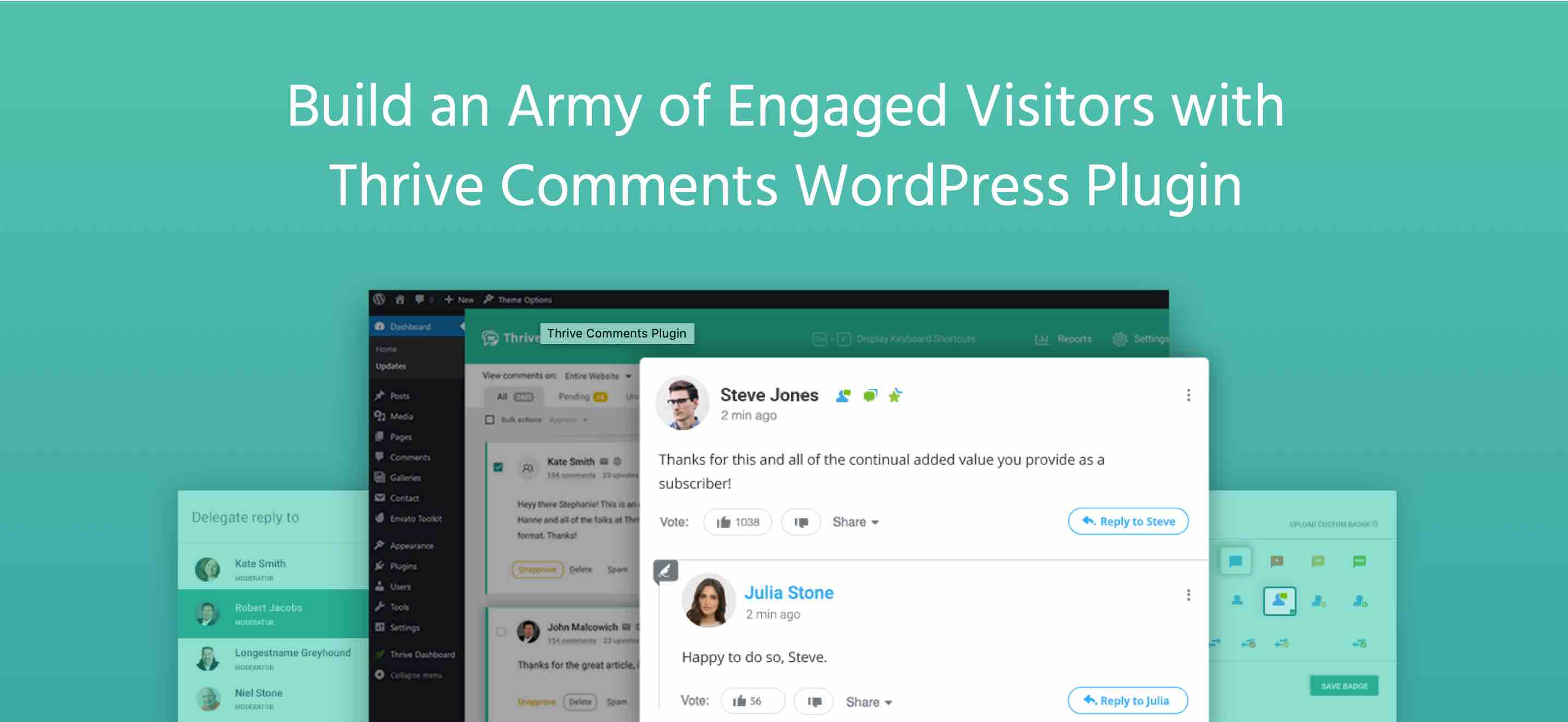 You need to buy the plugin to get rid of the native WordPress commenting system. It comes up with a number of features such as incentives for the ones who are commenting, social sharing buttons, an organized dashboard, and so on.
The awesome feature set of Thrive Comments include-
Ensures the engagement that Facebook and Reddit enjoy
Validations via up-vote and featured comments
Helps you turn comments into conversions
Lets you use Social Media to amplify your comments
Auto Generate Visitor Information
2) wpDiscuz
This plugin is considered to be highly reliable for the commenting systems because it is designed with modern looks and is also quite fast in its performance.

The plugin is getting high ranks due to its amazing features such as the storage of the data on the site's database. Also, the plugin allows you to integrate with several other plugins for use. It also offers the support off social logins.
Other essential highlights that make wpDiscuz one of the best WordPress Comments Plugins are-
Offering fastest commenting experience
Adds interactive comment box on the content types
Responsive comments form, Easy to use Interface
Notifier button for the live updates of new comments
Full integration with Social Network Login Plugins
Automatic URLs to link conversion in comment texts
Comment author notification options
Subscription activation via additional "Confirm Subscription" email
Fully integrated and compatible with WordPress
Post sharing options: Facebook, Twitter and Google+
Notification to comment author when the comment was approved
Subscribe to User / User Follow
3) LH Native Comments
The best thing about this plugin is that it is integrated into WordPress itself, and hence you do not need any extra effort to set it up or so.
The significant benefit of this plugin is that it is sleek and is also modern in looks. It does not force the viewers to sign in to their social sites to put up a comment. The visitors can simply put up a comment without must hassle.
Some of the important characteristics are-
It makes the comments better for the visitors
You can make Comment, Name, and Email fields on the front end
Comments can be Textarea expandable that will ensure better use of space
You can save unfinished comments in local storage for gaining repeat visitors
You can give each comment its permalink
4) Disqus
This is one of the most famous plugins because it is said that the upgrading from the native commenting system on WordPress has started with Disqus only.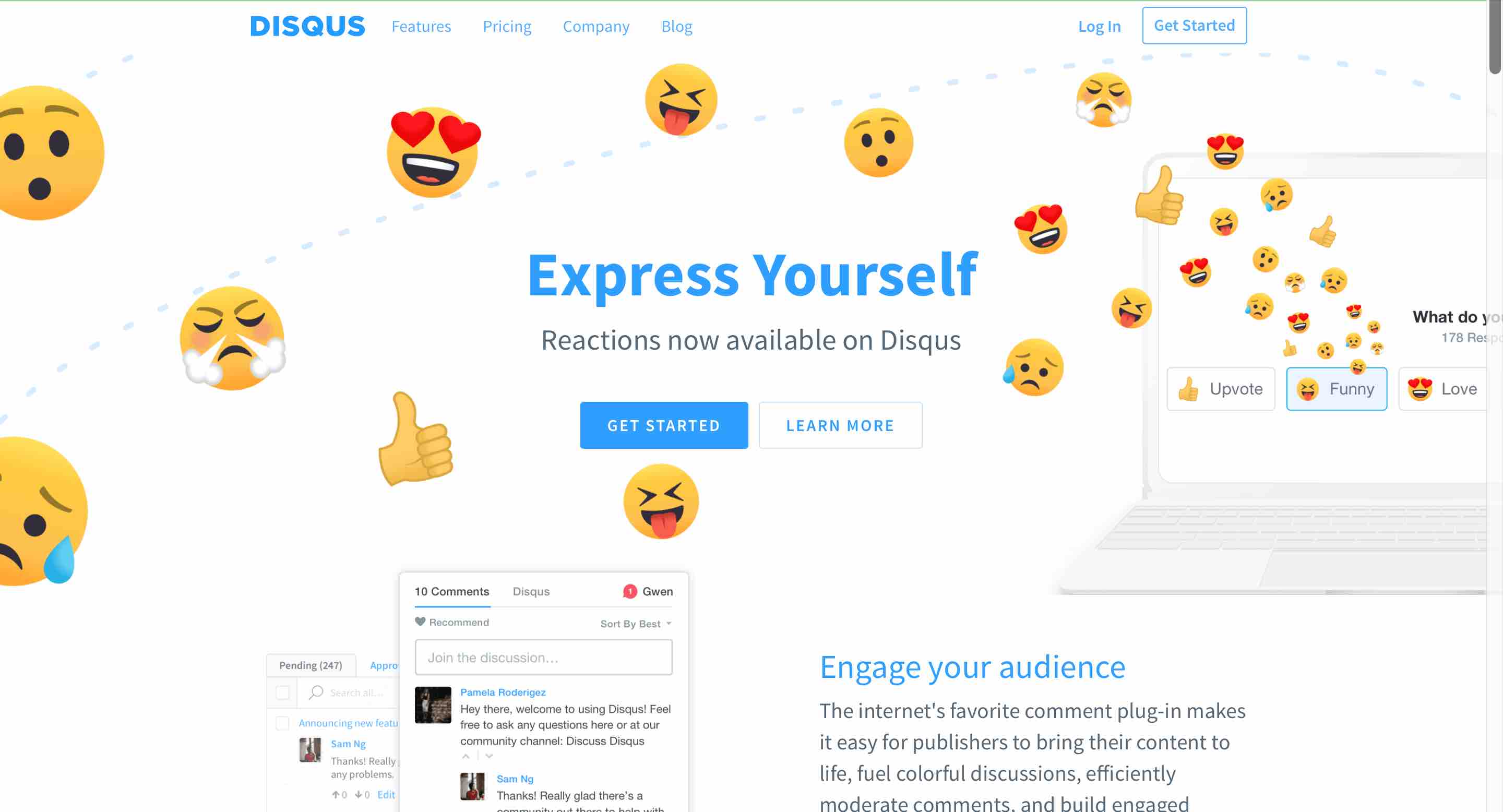 Though many new plugins have jumped in this category still this particular plugin is known for its impressive features. But apart from its excellent features, you should also be aware of the contrary part that it often posts ads.
Because of this, the popularity of the plugin is getting decreased in light of many other options. Let us go through some other features of this one of the very useful WordPress Comments Plugins-
Simple one-click installation
Engages your users on your site longer with a commenting experience they would enjoy
Web and email notifications and personalized digests
Better SEO ranking with user-generated content
Keeps spam out
Single profile for commenting on over 4 million sites
Monetization options to increase revenues
Real-time comments system
5) Jetpack Comments
It is not just a regular commenting plugin that you come across with. It is equipped with 20 different modules, and it is known to upgrade the commenting system of WordPress.
The plugin offers many exciting features, such as commenting through social logins, along with the primary feature. To get some great functionalities of the plugin, you can always come up with many other plugins as an addon with Jetpack.
Some other features of Jetpack Comments that make it one of the best WordPress Comments Plugins-
It has integrated Social Media Login Options
Visitor can comment as a guest, or they can choose their Google+, Twitter, WordPress.com, Facebook account
Jetpack is also a collection of WordPress built plugins that can improve your site
6) Replyable
Postmatic presented Replyable plugin to upgrade the WordPress commenting system. Often the commenting systems are filled with spam that becomes quite boring for many of the visitors too, and hence they do not come back on the site.


The plugin makes sure to modernize the subscription by managing the spam comments. It is also helpful in delivering various elements such as post recaps, profile images, and so on.
This responsive plugin is free if you wish to have the basic version and also comes up with a range of exciting features. To enjoy some of the premium features, you need to make a subscription and buy the plugin for your site.
Salient highlights of Replyable that make it one of the best WordPress Comments Plugins are-
Powerful comment subscriptions that follow spam laws
Fully branded, responsive and auto-adapting templates that can also mimic your theme
Comment replies without leaving the inbox
Automatic Author Subscriptions
Outbound Email Delivery
7) WpDevArt Facebook Comments
People are very much active on social sites such as Facebook today. Hence, integrating Facebook comments in your blog is a great idea to make it is an interactive platform.
One of the most amazing things about this plugin is that when an audience comments on the page, the comment and your site is shown on the person's Facebook wall also. This will bring the person's friends to know about the site, and soon they might even drop into your website.
Now, let us have a look at some other features that make it one of the most useful WordPress Comments Plugins-
It is user-friendly and easy to use
It is well tested with other popular plugins
Set the box Title, Title text color, font-size along with font family and position
Ability to select where to display it, set the width, set ordering and number to display and set the language
Lets you choose the color scheme, background color, and position
Offers 39 amazing animation effects
8) Super Socializer
If you are looking for a free to use and light in weight plugin, this is the one that you can surely get.
It is held authoritative due to its amazing features such as social logins for about 100 and more networks. Apart from this, another great thing about the plugin is that it keeps out spam from the commenting system.
Few of the highlights you need to know, so you can understand why it is in the list of top WordPress Comments Plugins are-
GDPR Compliant, plus also compatible with Gutenberg editor, myCRED
Offers Social Share from around 100 social networks
Includes Social Media follow icons
Provides FREE icon customization options
Mobile responsive sharing interface
Compatible with AMP
Social Login from 10 Social Networks
Lets you enable Social Login interface at WordPress Login, comment form, and Register pages
Social Login at WooCommerce checkout page and customer login form, plus Sharing at WooCommerce products
Customizable login/post-registration redirection
Enable Social Comments
Compatible with BuddyPress, WooCommerce, bbPress
Multisite Compatible, plus also supports HTTPS-enabled websites
9) De:comments
De:comments claim to be the most powerful WordPress comments plugin.
Of course, there are many reasons for it. It is said to be the best option for the developers as it offers the freedom to customize the commenting system as a whole.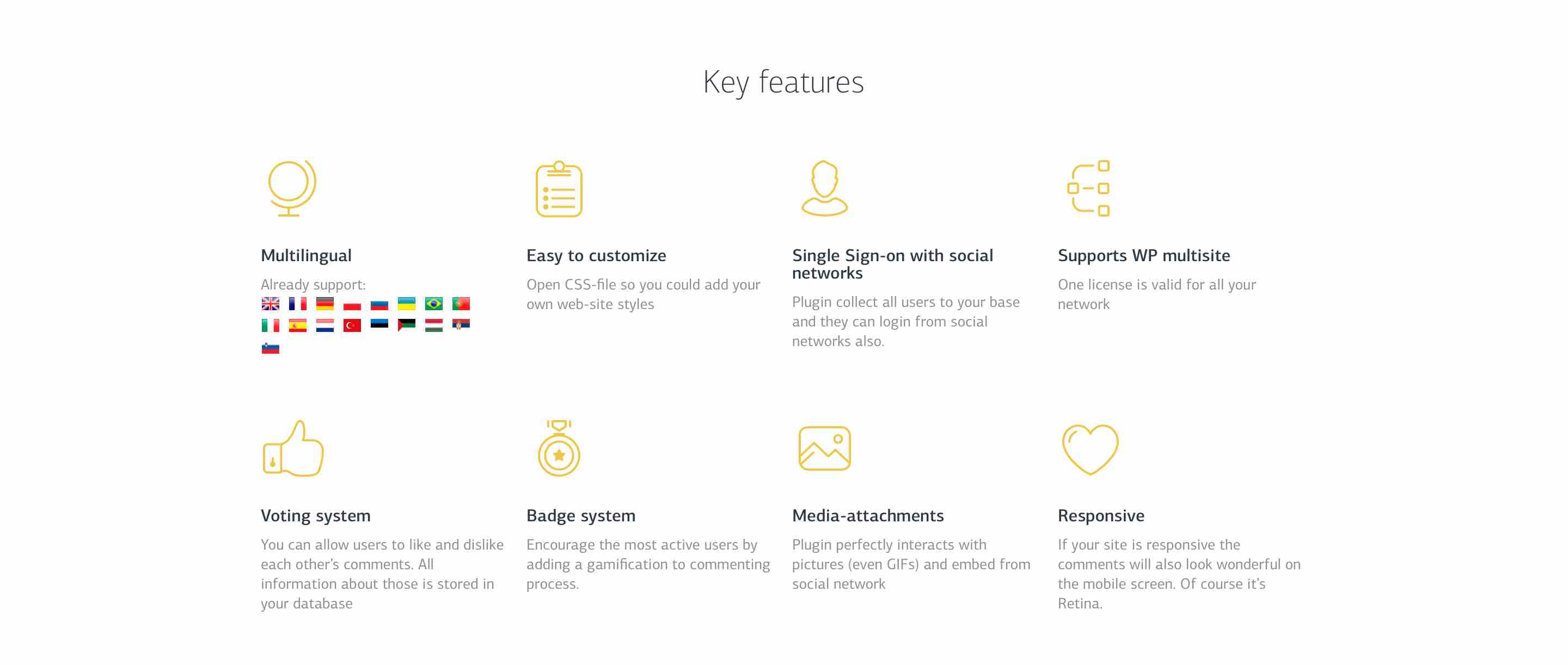 The plugin supports a number of site of WordPress, and hence you can make use of it on many sites. Also, the plugin supports a large number of languages for the convenience of the user as well as the audiences.
There are other features too, to make this plugin a special one. The voting system, badge system, uploading of media attachments, social site buttons, and many more are there to make this plugin as one of the best options for your commenting experience.
Important features of De:Comments are-
Multilingual
Easy to customize
Single Sign-on with social networks
Supports WP multisite
Voting system
Badge system
Media-attachments
Responsive
Easy to Setup up
Customize Design
10) GraphComment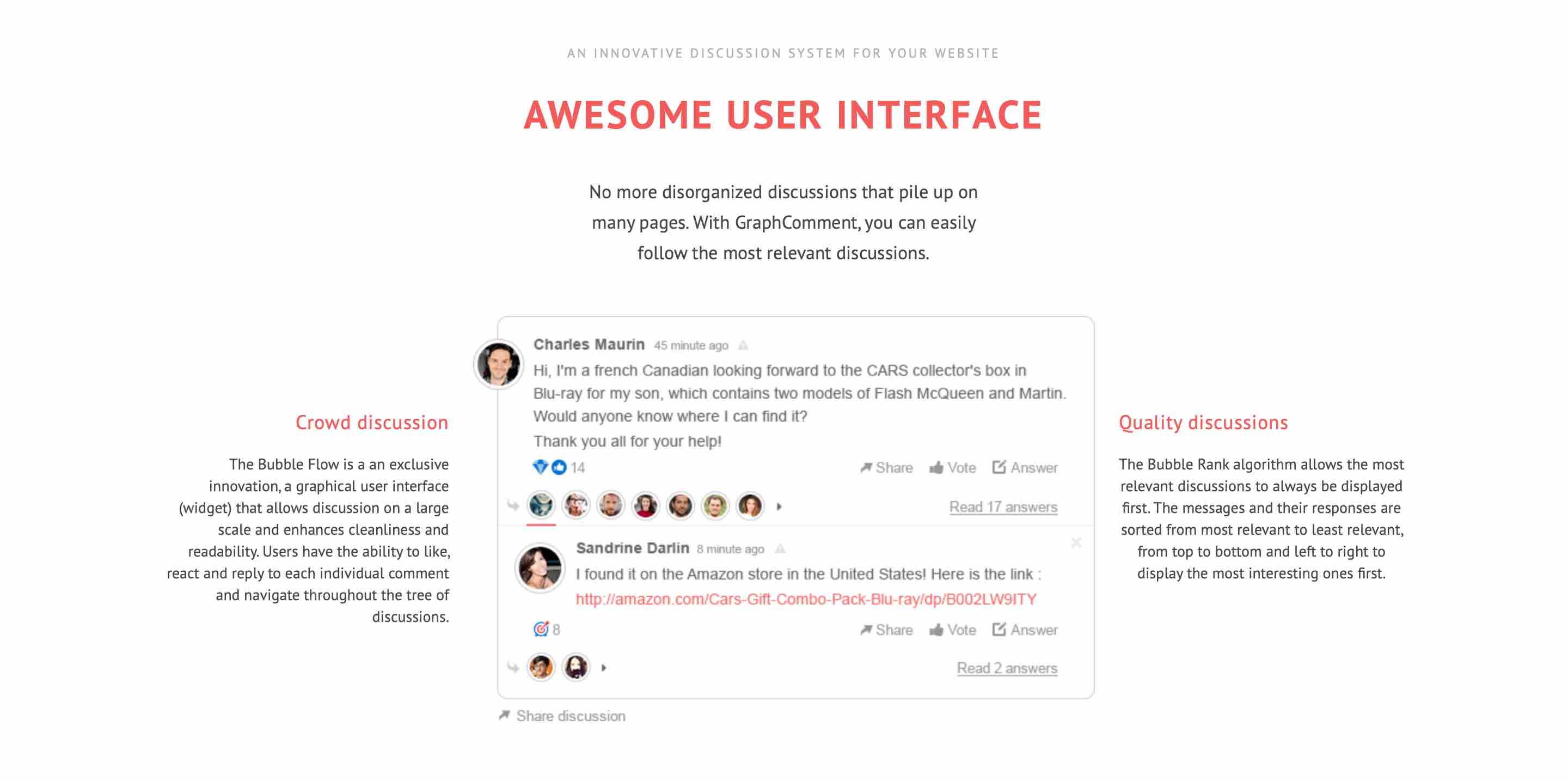 GraphComment mainly is featured with social login and is known for a wide range of features available. Some of the most important features that are known to make the plugin quite famous today are discussions, shares, media embedding, and votes.
You can get a personal plan free of cost if you are coming up with options such as your blog or commercial site and so on.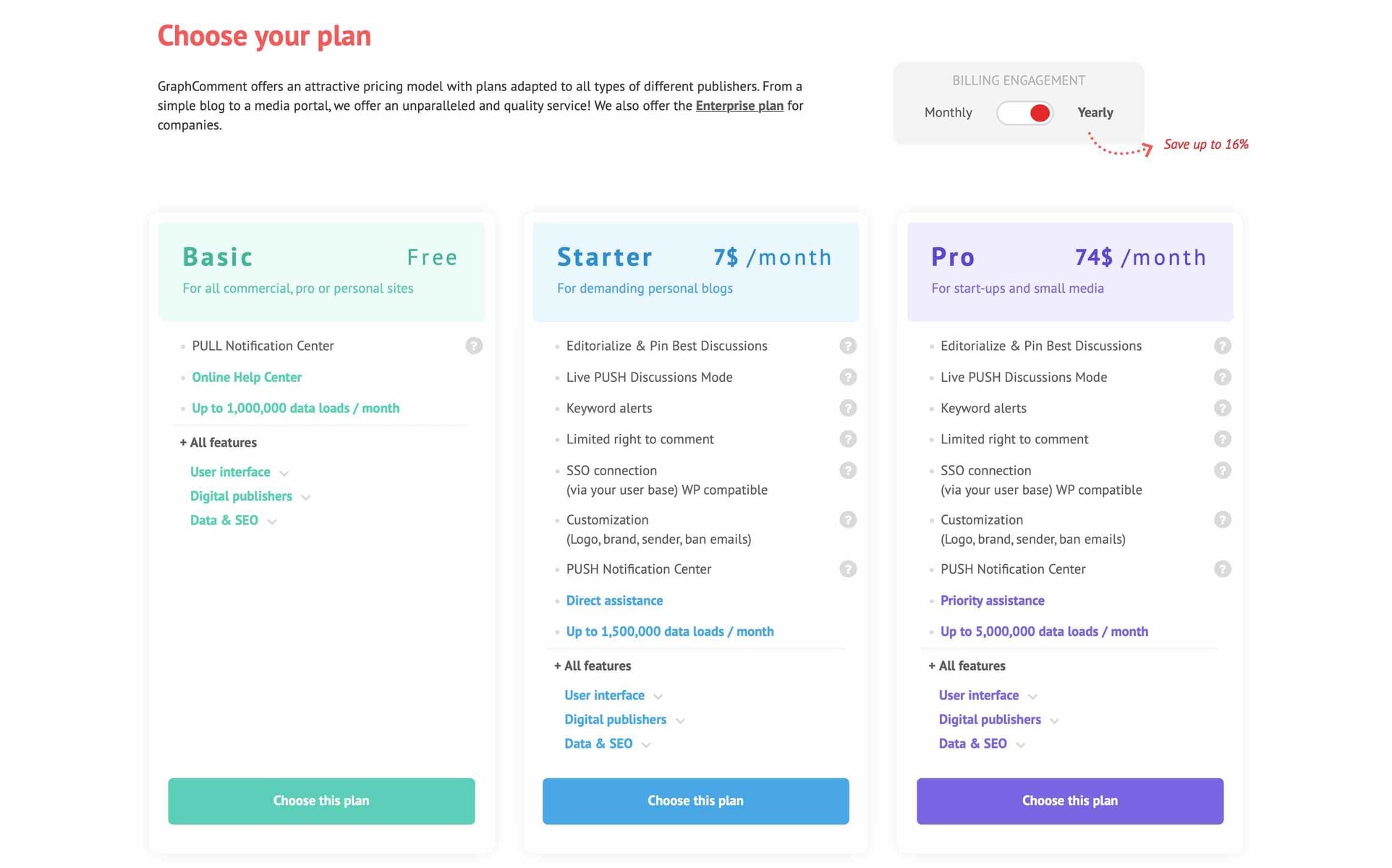 One of the best things about this plugin is that it is quite capable of organizing the comments and the interactions in a much proper way.
Curious to delve into some other excellent features that put it in the list of top WordPress Comments Plugins- Let us have a look-
Guest commenting option
Great Responsive web design
Lightweight JS and progressive download
Helps you to manage all your comments directly into WP-panel
Enables you to import all your old comments from WP database
It will offer Auto-sync (backup) of comments from GraphComment to WP database
Using it will let you get notified in real-time for pending comments
SEO-friendly
Multi-language interface
Badges, Real-Time Notification Center sorts of engagement tools
Social Login and Single Sign-On
Word Filtering and Word Blacklist
Conclusion – WordPress Comments Plugins
It is quite common today to notice the commenting system in different blogs and sites. It has got a vast number of benefits, and hence it is quite ideal for getting a commenting system integrated with your website too.
WordPress does not offer a proper commenting system, and hence, it is essential to get some external support on it. Installing the alternatives for WordPress comment plugins can help you in getting an upgrade on the basic commenting system offered by WordPress.
You should choose the right plugin after going through in details about the different options so that you can get the one that is required for your website.