If you are a big social media fanatic as I am, then you would probably know that there are so many other social media apps that you can use in order to experience the best of social media. There is not just Facebook and Twitter anymore. Even Instagram seems to be a bit of a stretch these days.
These Social Media Apps of immense importance when it comes to Social Media for businesses. The online presence of businesses gets decides these days by their effective and engaging presence on Social Media Platforms. Social Media Apps alleviate the whole task and let marketers manage and run Social Media Marketing Campaigns in more effective and result driven manner possible
The world of social media is so big and it is time to explore the rest of it with the help of some amazing tools and apps, as they enable adept users to multifold profits in the limited possible time. By now we hope you know that these are the social media applications that are the thing of the future.
With new apps coming into the limelight every single day, it is now time to introduce some of the best social media apps that will help you with everything related to Social Media Marketing Campaigns.
So, why shouldn't you know about these amazing and interesting apps in the first place?
Well, this is exactly what we are going to do here.
We will be providing you with information about the best apps on social media and you are going to love it for sure.
So, without wasting any more of your precious time, how about we get on with the best social media apps?
10 Social Media Apps That You Can Use
So, as we promised you earlier, we are highlighting some of the best apps for social media in here. Make sure that you try out each and every single one of these to know exactly what we are talking about. Trust me, you would like nothing better than these apps that we have.
So, shall we get started?
1) Facebook Pages Manager App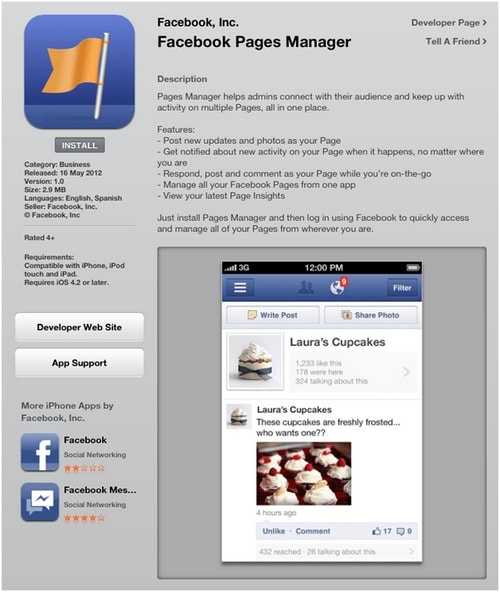 When it comes to managing pages on Facebook, it can get a little bit tricky as most people wouldn't know how to do that. This is especially the case when all they have got is a mobile phone.
Well, with the help of this particular app, managing Facebook pages from the small device is completely possible and easy as well.
Social media marketers can easily manage different pages with the help of this app. Utilizing the real power of Facebook Marketing is inevitable for businesses, and Facebook Business Manager App is one of the best Social Media Apps to manage Facebook Business Pages for ensuring engagement and conversions.
What more could you possibly want from a tool like that?
2) Planoly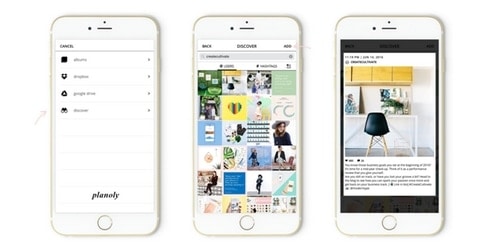 This is one of the top recommendations of industry experts. The name of the app is Planoly and the application is simply marvelous in managing and scheduling Social Media Campaigns. It basically acts as a visual planning tool for the platform of Instagram.
Don't know what we are talking about?
Well, the user will exactly be able to see their posts in a grid way and that is something that we all need, don't we?
Apart from that, you will be able to view the engagement rates for your posts as well. It will let you see your Instagram feeds in a more organized manner with clear visual appeal that will increase your efficiency.
Now, who wouldn't want to try it, right?
3) Evernote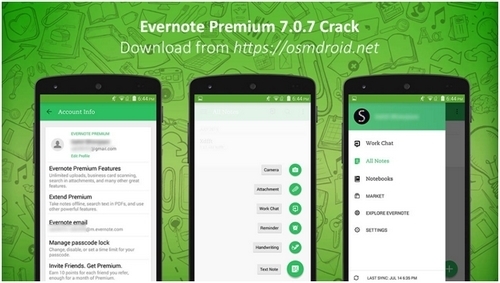 Just as the name suggests, this particular app works best when you have to note down something. It is based on the format of Cloud and hence is technologically pretty advanced as well.
You will be able to take down multimedia notes in here and send them as well.
So, in other words, we can say that sharing links, videos, and images will become a lot easier within the team. Isn't it something that you have always wanted?
In addition, it also helps you in strategizing better Social Media Marketing Strategies by adept use of different elements that can enhance the visual appeal of Social Media posts.
4) HootSuite Enhance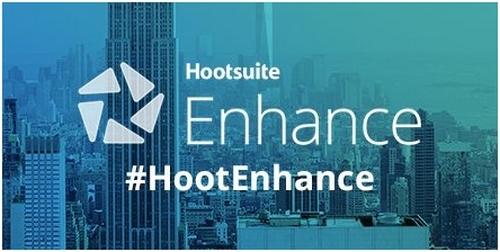 Here is a tool that you will be able to use editing those ugly photos that you take. When it comes to editing photos, nothing can beat Hootsuite Enhance.
There is an amazing feature of cropping the photos which can add some very interesting visual content in the images for sure. You must try it once to know what we are talking about. We are pretty sure that you will love it.
You can easily add any filter or logo to an image with the help of HootSuite Enhance that makes it one of best Social Media apps for Android as well as iOS users.
5) Captiona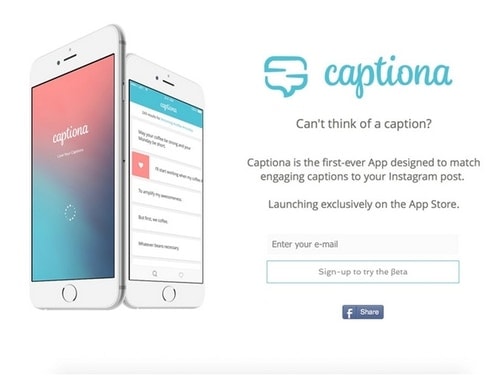 There is no doubt about the fact that Instagram is a pretty busy platform. Some of the most amazing brands and about millions of people are constantly posting so much stuff in here. So, sometimes, it might feel like a little bit of a challenge to think of amazing captions that will be appealing to people.
Well, why make an effort when you have an app to help you out? This one is the best that you can have.
With the help of Captions, you only need to enter the keywords related to your image or post, and this app will conveniently provide some of the best-suited captions for your images.
6) Canva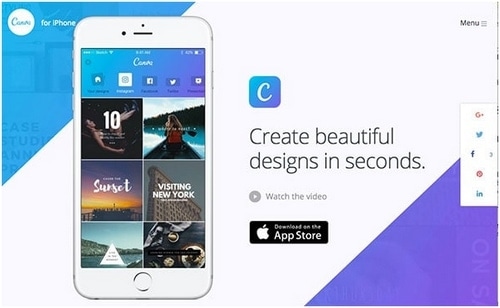 Another one of the photo editors up in here is Canva. But one thing that is different in this app is that it also helps in graphics creation as well.
Doesn't that sound absolutely amazing?
You will be mesmerized by the features that it has. For those brands that do not have their very own graphic designer for their content, this tool can help a lot in there. Just try it out once and you will see.
It is one of the best Socia Media Apps that is also cloud based and comprise web as well as mobile versions for the users. You can use it for creating Infographics, logos, and other kinds of visual content as well.
7) Apple Clips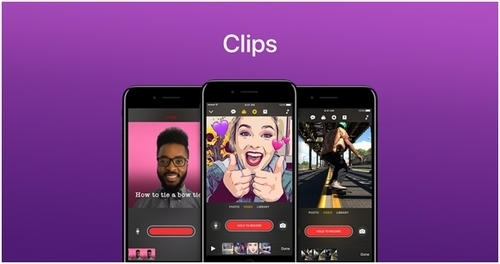 Till now you have seen the Social Media Apps that can help with photo editing. So, it wouldn't be fair if we didn't add an application that could help with editing the videos. So, here it is people.
Apple Clips is an amazing tool that you can use in order to edit the videos that you are posting on social media platforms. There are live titles available in the app so you can create some amazing animated captions as well.
There are Social Media Platforms where people prefer watching videos without sound and this app can be the fantastic one for them. It can let you add text that can engage the users with the mute videos.
8) Grammarly Keyboard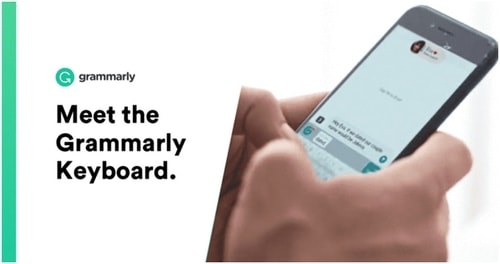 Editing the mistakes in Grammar tends to be a lot more tedious when you don't have additional help, right?
Well, check this app out and you will be impressed with it for sure.
This amazing app corrects every single grammatical mistake that you make while you are typing on your phone keyboard.
Sounds pretty awesome, right?
9) Adobe Premiere Clip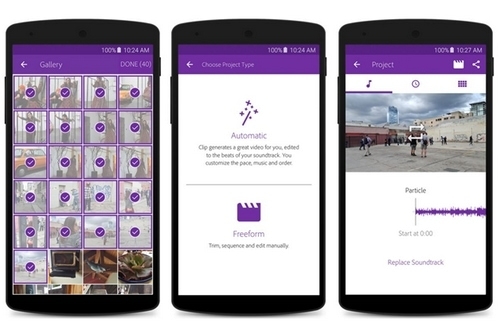 More and more people are now trying to invest in video ads on social media platforms. So, there is something that can help you with that. If you want to post some amazing videos on social media platforms, then Adobe Premiere Clip is one of the best Social Media Apps that would certainly be helpful to you in the future.
It will offer you features like video editing, custom lighting, soundtrack support, and other editing features that beautify your videos.
Make sure you use this to know how amazing it is.
10) Keyhole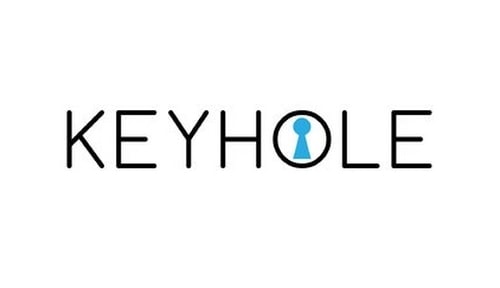 For monitoring your worth in social media, this is a tool that comes in handy for sure.
You can easily find out the best Hashtags and keywords that will make an effect on the people. This tool is something that businesses use most of the time.
Social Media Marketers can easily enter URLs, Keywords, Hashtags, etc. and they can gauge their performance in accomplishing the Social Media Marketing Objectives. This will let you know when and where your audiences are being engaged with your content and accordingly you can customize your campaign.
This one will for sure optimize your social media campaigns by providing you with the most useful analytics of your campaign.
So, you should use it as well.
Wrap Up!
So, these were some of the best social media apps that you can use in order to have a good presence on these amazing online platforms.
With the help of these applications, you can alleviate your Social Media Marketing tasks and make your campaign more impactful and conversion driven.
Did we miss any of the apps that you prefer using? Let us know in the comments below.