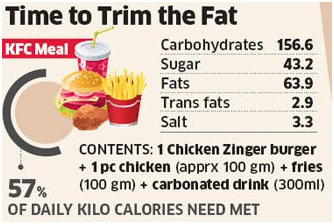 Are you a Junk food addict!!? Now it's time for you to control your taste buds! The recent report from Center for science and environment (CSE) mentioned 16 top food brands and accused them for misleading the consumers with wrong Nutrition Facts in its packaging. Trans fat which can occur during the food production process is responsible for causing coronary heart disease. Trans fat is a common name which is usually referred for unsaturated fat.
WHO (World Health Organization) has recommended the quantity of permissible trans fat per day as follows
Adult Male   : Not more than 2.6 gm
Adult Female : Not more than 2.1 gm
10-12 years  : 2.3 gm
Nestle's Maggi noodles, McDonald's, KFC, Haldiram's aloo bhujia and PepsiCo's Lay's potato chips are some of the brands listed in the CSE's report. Junk foods are supposed to contain excessive salt, sugar and trans fat which is not good for healthy living in the long run. With westernized life style, more and more fast food chains like McDonald's, KFC, and Pizza Hut are opened in every locality and has stimulated an artificial need among the consumers. Junk foods are the strong root cause for young age problems like obesity, diabetes and cardiac problems. Director of CSE Sunita Narain further reiterated, "We need stronger regulations that will reduce fats, sugar and salt in junk foods, and force companies to provide information to the public mandatorily,"
After the reports of CSE about findings of pesticides in Coco cola and PepsiCo in the year 2003 and 2006, weakened the sales of beverages during the year 2004-07. A recent study from CSE stated that 65-75 gm of Lay's chips consumed can exceed the permissible trans fat quantity per day for a person and a two-piece chicken from KFC exceeds both trans fat and total fat allowed per day. However the officials from food chains has denied the reports to be base less as the branded restaurant chains uses only refined oils that are bleached and deodorized in which the presence of trans fat is very negligible.
The most affected group by these fast foods culture and junk food eating habits is children. In urban, the children are being forced to consume junk foods as both the parents are being employed and they are being denied of nutritious homemade foods. This has resulted in various side effects like obesity, tooth decay, cholesterol, laziness and mal nutrition which has reduced children's progress in growth and led to several complications. The normal activity of the brain and other vital organs are affected by consuming junk foods and reduces the memory power and thinking capability of the children. It is necessary for the concerned government bodies to educate the public regarding the side effects and there should be statutory warning mentioned in the labels of the packaging.
Get Daily Marketing Updates in your Inbox
Related Posts: